Child Care Licensing Documentation Goes Mobile in Wisconsin
Imagine it's your job to certify whether a childcare facility qualifies for a license from the state. Checking multiple facilities across the state for things like: Are the kitchens clean? Are the toys safe? Are there enough caregivers for the number of children?
Now, imagine having to keep track of your findings in a separate 50-page booklet filled with more than 400 rules and regulations for every childcare site you visit. Scribbling notes by hand onsite and reentering them into the mainframe database web application when you return to your office. This was the life of a Licensing Specialist at the Wisconsin Department of Children and Families (DCF). That is, until now.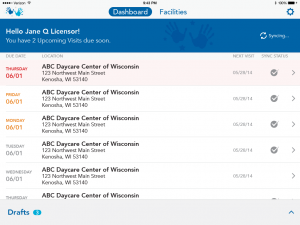 Simple, smart checklists for every visit
Today, Wisconsin childcare licensors can review, check and update their records instantly, on site, through a custom iPad application developed by the mobile division of SPR Consulting.  With or without online access, licensors have all the information they need for every visit, organized in an intuitive and efficient checklist format. With the touch of the screen, licensors can see the results of previous visits, violations that needed to be rechecked – even an entire history of the facility. Best of all, the app integrated with DCF's legacy web and mainframe system, using DB2 and Microsoft .NET technologies.  Updates happen automatically – with no reentering of data.
Tailor-made to the way licensors really work
If ever a record-keeping system needed technology, this was it. The idea for the new app came up during a Wisconsin LEAN Government initiative project in 2014. The LEAN workgroup realized that having access to the DCF network would allow staff to have all the available background information on hand while making a physical site visit.
Digitizing the 50-page code booklet was a start. But SPR went beyond the obvious and accompanied licensors on several site visits – which led to some additional design ideas. For example, SPR noticed that licensors took notes both standing and sitting, so they designed the app to work in portrait and landscape modes. They also designed the checklists to be customizable by each licensor so they could review information in the order they preferred via user-defined tagging and flags.
"The amount of detail these licensors were tasked with monitoring was truly overwhelming," notes Rob Wenc, Mobile Practice Lead for SPR Consulting. "It was a situation where the right technology, properly designed around the way they work, could really do the heavy lifting for them and make their visits much more productive."
Through the Agile process, SPR uncovered true needs and kept project squarely on target
Incorporating Agile methods such as inception, iterative development, continuous integration, scrum and test-driven development, the SPR team reimagined how the licensing data collection process could be done. The new app was designed in collaboration with the client, taking advantage of all new tablet technologies available. By releasing the app to the client at different stages for continual user testing, SPR created an ongoing feedback loop that enabled them to respond quickly to feedback and changing requirements.
RESULT: Essential information at licensors' fingertips – any time, anywhere
In addition to simplifying the review process into a user-friendly checklist format and preventing the loss of data regardless of WiFi availability or signal strength, the new iPad app gives licensors something more: time to be able to discuss important information with providers and parents.
"Being able to make electronic entries instead of notes on paper during visits makes it easier for licensors to hit all the points and discuss them with providers on site, making the process simpler and more efficient for everyone," notes DCF Administrator Judy Norman-Nunnery. "The success of this new tool is a great example of government streamlining work and resources."