SPR Consulting Welcomes Chris Hansen to the Cloud Practice
SPR Consulting is excited to welcome Chris Hansen to the cloud practice. As the cloud architect and evangelist, Chris is responsible for educating the market on our cloud practices by attending local user groups and generating thought leadership. With his deep cloud expertise and Microsoft Virtual Technology Specialist Program (vTSP) credential, he will consult on our Microsoft Azure engagements. We look forward to working with Chris as he influences new best practices and develops new cloud offerings.
Q&A With Chris Hansen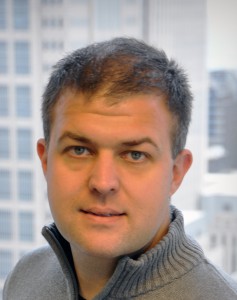 Can you give us a high level overview of SPR's cloud practice?
SPR's cloud practice works with organizations to develop cloud strategies, deploy cloud solutions, and manage cloud environments.
What do you think sets SPR apart from its competition?
We believe a company shouldn't move to the cloud just for the sake of the cloud. To us, it's all about using the right cloud solution for a business's workload. Because we have a breadth of expertise across technologies, we pull in experts for each of our clients' unique needs. We are a Microsoft gold cloud platform partner with virtual technology specialists on staff.
Tell us a little about yourself. What's your technology background?
I have been working in IT since I was 17 years old starting at a small computer shop doing break fix work on printers, laptops, desktops. Over the years, I have worked my way up into infrastructure and cloud architecture. I have always been a customer centric IT person who is equally passionate about helping to resolve the technical and business challenges.
What made you make the switch from infrastructure over to cloud computing?
Cloud computing is the next evolution of infrastructure technologies.  IT infrastructure has traditionally been very expensive. Cloud technologies are allowing more organizations to use technology that was previously too expensive for all but the largest firms. This shift is presenting an exciting opportunity to help organizations do IT more efficiently and I want the opportunity to help those organizations realize the benefits of cloud infrastructure.
What enticed you to join SPR?
The management team presented a very family oriented organization.  SPR is a firm that is on the forefront of technology and is working on some of the most interesting technology projects.  Additionally, as cloud infrastructure is a very new technology, I am being given the opportunity to help drive innovation and growth for both SPR and our clients.
What are you most excited about working on?
Cloud strategy. As more and more organizations move into the cloud, it is exciting to help those organizations realize the benefits. These benefits include; increased efficiency, decreased cost, and creating competitive advantages.
What do you hope to influence?
SPR's cloud infrastructure practice. I hope to be able to bring new innovative ideas that will help SPR grow the infrastructure practice. Some examples include Private cloud, System Center, and data center automation.
What is your take on Microsoft Azure?
Azure is a great solution. Microsoft's solution stack is very complete and is evolving and improving very rapidly.
---
About SPR Consulting
A trusted partner to businesses for more than 40 years, SPR Consulting builds, integrates, tests and manages technologies that improve enterprise efficiency. With its expert consultants and innovative solutions, SPR improves access to information, company-wide collaboration and helps organizations more effectively connect with their customers. For more information on how SPR powers business with technology, visit www.spr.com.