When You Can't Find Talent, Build It!
Feb 07
2020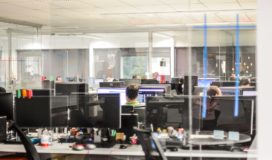 Morningstar was facing a talent shortage problem in their test automation department. So, they worked with SPR to bring eager candidates together with job-targeted training to create new, well-qualified employees.
When You Can't Find Talent, Build It!
A unique partnership between Morningstar and SPR brings eager candidates together with job-targeted training to create new, well-qualified employees.
It all started with a conversation over lunch. The Director of Quality Assurance at Morningstar told Nancy Kastl, Director of Testing Services at SPR, that her boss wanted her to come up with a new solution to their talent shortage problem. The independent investment research firm had as many as ten SDET (Software Development Engineer in Test) seats to fill in their test automation department.
"Well," said Kastl, "if we can't find them, why don't we create them?" She outlined an SPR-managed program in which candidates would be sourced, interviewed, and put through a 10-day automation testing boot camp to train them and uncover those who were the right fit for Morningstar. After a six-month contract-for-hire period, Morningstar could decide whether to hire each candidate as fulltime. Morningstar's Director of Quality Assurance loved the idea – and so did her boss.
The six-phase program came together quickly, over a period of two months. SPR took the lead, conferring with Morningstar before each new step. From an initial pool of close to 100 candidates, the SPR team carefully whittled down the candidate pool to only the best and most technically qualified candidates and whose attitude would fit well with Morningstar.
"We have a very unique culture here," says Morningstar's Director of Quality Assurance. "We have great people who do great work, and we really value them. It was important to find candidates who understood and appreciated that." In addition, test automation is a specialized field that requires a certain kind of person – someone with an affinity for details, a dedicated work ethic, and a no-quit attitude. In order to identify the right people, Kastl spoke with Morningstar business owners, technical leaders, process managers, and the HR department to determine exactly what to look for in the screening process.
SPR looked for local candidates who showed aptitude for test automation scripting. Any candidate with the right skills, potential, and attitude for the program, who was willing to start in an entry-level position, was considered. This included manual testers or technical individuals with college degrees in computer science or mathematics from SPR's local skills retooling partner organization, Skills for Chicagoland's Future. Skills for Chicagoland's Future is a public-private partnership that works to match businesses with unmet hiring needs with qualified, unemployed, or underemployed job seekers.
Once the initial pool of candidates was identified, SPR began interviewing candidates on their technical skills and experience. Candidates who passed these interviews were also interviewed by Morningstar for attitude and cultural fit.
Next, twenty candidates were selected to participate in an intensive one-day testing workshop. The workshop was designed not only to educate candidates in foundational QA and testing methods; its secondary goal was to be able to observe the candidates' interaction and critical thinking skills as well as professionalism and collaboration factors. "Some of these soft skills, like collaboration and attitude, can only be assessed in a working environment," Kastl explains. "Representatives from Morningstar paid as much attention to how candidates interacted during the workshop as they did to how they fared technically." Candidates who met or exceeded Morningstar's expectations were then invited to a 10-day Automation Boot Camp.
Automation Boot Camp was where the candidates' true work began. Eight testing workshop graduates and one Morningstar manual tester were trained in automation concepts, Selenium WebDriver automation framework, and Java scripting techniques in a fast-paced environment that included practical application and interaction with the instructor and other candidates. When the intensive boot camp was complete, SPR and Morningstar assessed and discussed each candidate's merits and potential.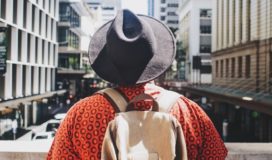 Mark Twain once said, "Everybody talks about the weather, but nobody does anything about it." The same could be said of the talent shortage. Except this time, SPR and Morningstar really did something about it.
The final phase was a six-month work-for-hire period. SPR hired seven candidates from the boot camp as entry-level automation engineers to work under the direct guidance of Morningstar senior automation engineers. During the contract-for-hire period, SPR and Morningstar monitored the work performance of each contractor.
"There was definitely a learning curve," says Morningstar's Director of Quality Assurance with a chuckle. "The first month was the honeymoon period. The second month, that's when the work really got challenging." she points out that, for many candidates, this was their first job. "We knew these candidates had it in them," adds the Director. "We spent time with our managers figuring out what each person needed to succeed. And Nancy immediately stepped in to help."
One of the seven SDET boot camp participants was no exception. "The first month, you didn't get thrown on a project, you had some assignments with guidance. The second month, that's when you entered the deep water," he says. "But my main objective was to succeed, so I just put in the work, day by day, and I learned how to manage it all."
At the end of six months, Morningstar reviewed the performance of each contractor, performed hiring interviews, and made full-time job offers. Based on their budget, Morningstar hired six candidates as fulltime employees. By all measures, it was a very successful program for addressing the talent shortage.
"I think one of the key success factors was the Automation Boot Camp," says Morningstar's Director. "We could recruit and train people in a customized, tailored program, based on our test automation framework, business, methodology, and culture." The result was a group of primed candidates with the knowledge to be productive from Day One. "We told our business owners, 'Hey, you can wait two months for a candidate and do some of the training, or you can hire someone right away and lose headcount over time when they don't work out.' Now they get it." In fact, some managers were so convinced that they asked to hire their SPR candidates before the 6-month trial period was up.
"The partnership with SPR was awesome, they really helped us solve a problem," the Director continues. "Nancy and her team participated throughout, right from the beginning to understand our unique culture, tailor the program, and screen for the right kinds of candidates – all the way through. Nancy would even come to have lunch with the candidates to offer emotional support and understand their concerns."
"In the end," Morningstar's Director of Quality Assurance concludes, "SPR helped us find people who really wanted it, who have the hunger to do this kind of work."
"I can truly say," adds an SDET boot camp participant who became an employee, "that Morningstar is the first place where I enjoy coming to work every day. The people are absolutely great: everyone is ready to help you; if you have questions, you always have people to ask; and you're not micromanaged, you get a task and get it done."
It's fair to say that the participant speaks for all new SDET employees when he says, "Thank you, SPR and Morningstar, for giving us a chance. I am so grateful that they gave us this opportunity and invested the time in us."
Mark Twain also said, "Necessity is the mother of taking chances." Morningstar and SPR took a chance on a new hiring process, and it seems to be paying off for everyone involved.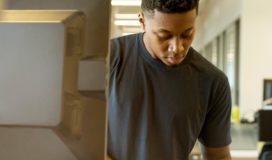 The U.S. will have 1 million open computing jobs by 2024, according to a recent report by the App Association.