Delivering Business Value through DesignOps
Chances are you've heard of DevOps. You might even have a good understanding of what it entails. But have you heard of DesignOps? It's a newer term that's becoming increasingly popular in the design world, moving beyond buzzword status to achieve staying power. So what is it?
DesignOps Defined 
DesignOps is a structured, scalable design framework that focuses on optimizing people, processes, tools, and culture while enabling tech product design teams to more effectively and efficiently deliver value throughout a product lifecycle. Successful DesignOps ensures shared alignment on business goals across cross functional teams. Similar to how DevOps transformed the development process to become more agile and iterative, DesignOps has made the design process more agile, iterative, and scalable.
Breaking Down DesignOps
People: Very broadly speaking, this is having the right people on the team with defined responsibilities, and a plan for scaling, including attracting new talent and professional development.
Processes: These are the simple and flexible workflows that ensure the right steps are in place and the right people are involved. They combat silos by requiring collaboration and a flow of information within and outside of the design team. And, they encourage feedback collection early and often to ensure that a product is viable and meets business goals.
Tools: When it comes to tools, there is no one-size-fits-all solution. This includes tools for communication, collaboration, and documentation, all of which help to drive learning and decision making. 
Culture: None of this would stick if a Design Thinking mindset wasn't built into the culture of the organization. This includes visions, goals, and community, especially how people interact from the top down. Empowering teams within the organization begins with leadership.
We find that DesignOps is an important practice for our clients to understand and adopt, especially for those organizations that know the value of design and are willing to make an investment in it. Because, even with solid designers in place, if the team has not been set up for success operationally the business value will not be maximized. Importance of DesignOps: Even with solid designers in place, if the team has not been set up for success operationally the business value will not be maximized. Click To Tweet We've experienced this firsthand while working on-site alongside client partners with less mature UX teams. With our guidance, we've taken teams from good to great by establishing a research-driven, iterative design process, collaborative environment, and elevated standards to result in fast-tracking the client's UX maturity level and delivering ongoing value.
The primary goal of DesignOps, then, is to establish highly efficient teams that use design thinking to explore, test, and determine solutions to business problems. This is done by implementing and documenting repeatable processes around all facets of research, interaction and visual design, and collaboration with developers for implementation. It requires alignment on business goals and ensures decisions always call back to those core focal points. Throughout the process, collaboration and communication tools and guidelines ensure a consistent and scalable model for working together, adding new members, and delivering value within the team and the broader organization.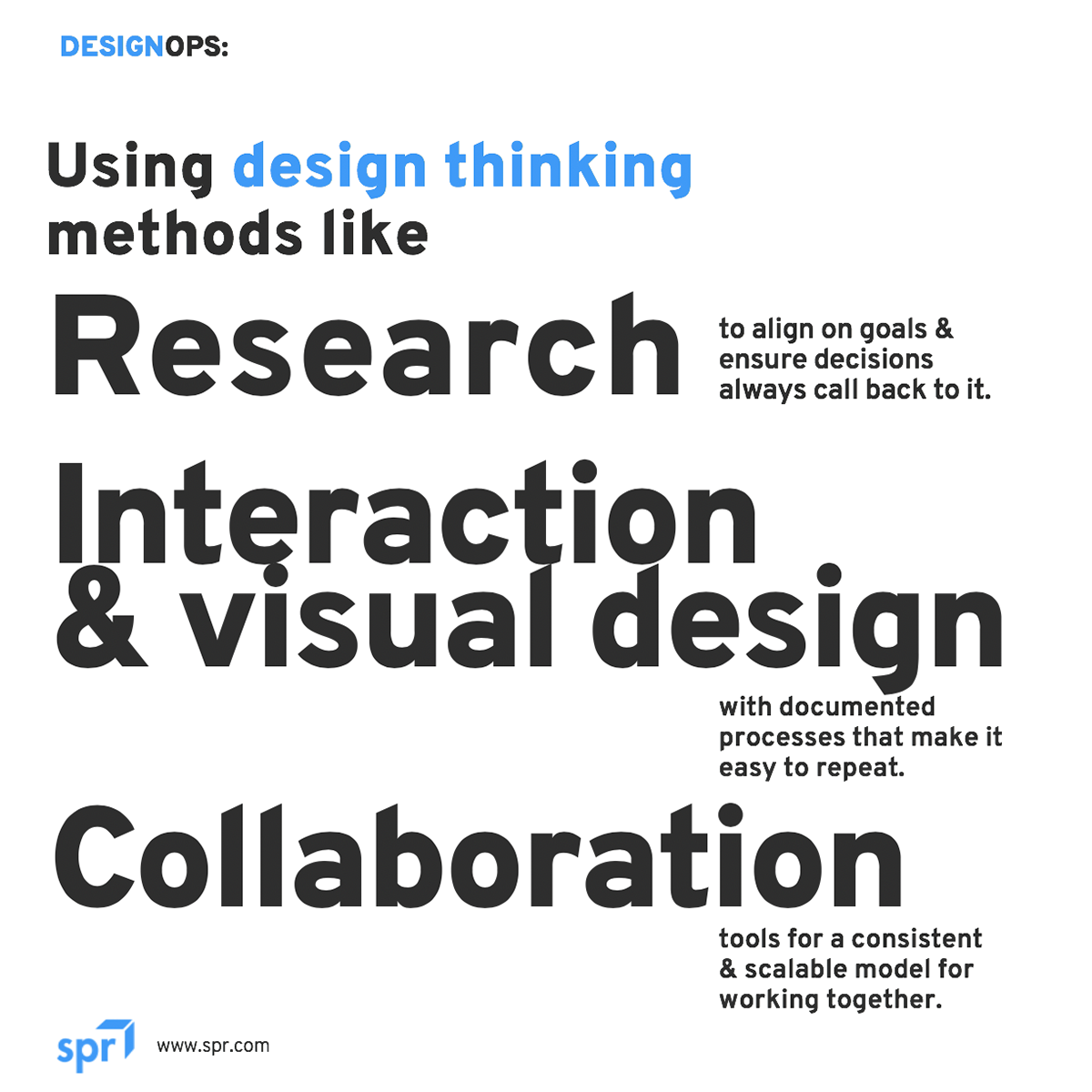 What's In It For You
As a result of implementing DesignOps, you can expect improvements in these areas:
Adaptability: Scale teams and processes and course correct with less impact on the bottom line.
Example: UX team members are more able to collaborate consistently and easily jump back and forth between workstreams to help each other out and ensure that no one is overwhelmed.
Effectiveness: Deliver more with less, freeing up resources to focus on new and unique challenges.
Example: new UX guidelines and reusable components allow designers and developers to create interfaces quickly, efficiently, and consistently with the freedom to introduce new components and patterns based on unique use cases and user feedback.
Quality: Create repeatable and reliable processes and tools to ensure consistent standards.
Example: new templates and clearly documented processes not only accelerate the work but also create a baseline for what is expected — especially when it comes to required steps, information, and team members involved throughout. 
Alignment: Align design, business, and technology on the vision of your product as you adapt to a changing market.
Example: regular workshops with stakeholders and the cross-functional team create the opportunity to share the latest findings from research as well as collaborate on solutions that will shape the product in the long-term.
Is DesignOps Right for You?
The ideal clients for this are those who recognize they have room for improvement and are open to change. Implementing something entirely new like DesignOps requires a growth mindset by the entire organization. It also helps if the organization has a UX/user-centered culture to begin, but this is something that can (and will) evolve over the course of our engagement. Ultimately, our goal is to work ourselves out of a job by setting our clients up for DesignOps success and delivering business value.
To better understand DesignOps and how it can fit into your business strategy—whatever your design maturity level—we recommend that you partner with a consultant to get the conversation started. Beyond that, begin by examining where your current problem areas are and defining where you would like to be. Also consider reaching out to organizations with mature design teams to learn about what's working or not working for them. 
Still looking for more? Check out SPR's other experience strategy and design group capabilities by exploring more.