People with Disabilities and the Shifting Workplace: What Employers Need to Know
Coming out of the upheaval of 2020, companies and organizations around the world are reevaluating many aspects of their business from continuity and disaster preparedness to workplace and talent operations. While the workforce repercussions of COVID-19 are widely known, many discussions about the new normal for professionals leave out one crucial part of the talent pool: professionals with disabilities.
As someone who uses a wheelchair and who has a diverse network of acquaintances, friends, and colleagues with disabilities, this topic is extremely relevant to me and to my employer, SPR. With a long history of supporting the PWD community, SPR has spearheaded multiple programs aimed to engage a community of professionals and aspiring professionals with disabilities as an element of their diversity plan. It's through this lens that I write this piece and encourage employers to consider the barriers to employment faced by people with disabilities, how we can remove those barriers, the advantages—and dangers—of the return to normal, and how our organizations can create more inclusive and accessible workspaces for our colleagues with disabilities.
Barriers to employment faced by people with disabilities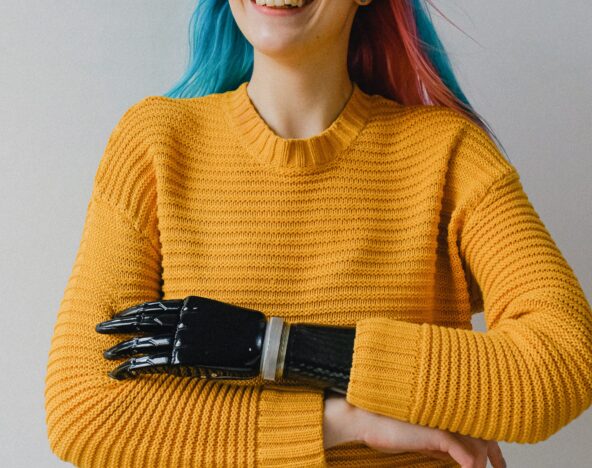 People with disabilities face physical, social and professional barriers in the workplace that their general population colleagues do not. They also face a far lower labor force participation rate (50% or less of general population) and a far higher unemployment rate (around two times rate of general population).
It isn't just inaccessible workplaces that drive these rates, but cultural and professional challenges as well, though physical accessibility challenges persist.
These barriers often start long before the job does. People with disabilities face bias that's prevalent in face-to-face screening, the interview process, and electronic/digital resume platform inaccessibility. Once hired, bias and discrimination often continue. A recent global survey by GDI and Mercer found that people with disabilities in the workforce aren't on the same professional tracking as other employees, nor do they feel as valued. They aren't offered the same levels of training, growth experiences or considered for advancement with the frequency of their peers.
Thirty-one years after the passing of the seminal ADA legislation, there are still many physical offices that are out of compliance with the standards laid out in Title III of the law. Not only does this disadvantage people with disabilities—it's also against the law.
Travel and logistics, along with travel accommodations, also present barriers that may disadvantage people with disabilities. While accessible mass transit does exist in some major metro areas, a large amount of public transportation still falls short of ADA requirements. Furthermore, barriers to reaching accessible buses and subways remain, including: traversing dilapidated and unsafe sidewalks and street crossings, detouring due to out-of-service elevators, and navigating inflexible and often-delayed paratransit systems.
Additionally, many companies don't consider colleagues with disabilities when planning social outings or company trainings.
Removing workplace barriers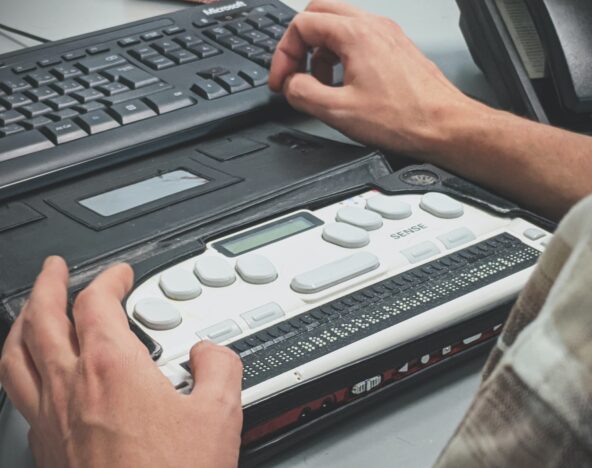 Even companies and organizations that have embraced other diversity initiatives have failed to include disability, and it has been difficult for disability advocates to move the needle in a meaningful way, despite people with disabilities making up 15% of the global population. But with the right diversity, equity and inclusion (DEI) initiatives in place, these barriers can be removed.
Organizations can start with creating or choosing accessible workplaces or modernizing existing workplaces to ADA standards. Beyond ADA, optimal design is encompassing of the disability spectrum and should consider not just physical and sensory disability, but non-evident disability as well. For example, some airport concourses and companies are providing quiet spaces to support travelers or colleagues with challenges related to anxiety, crowding, loudness or din, or who need more focus or to simply reduce stress – and who doesn't need that occasionally?
Culturally speaking, organizations should work to develop a culture of respect and actively welcome professionals with disabilities. Companies committed to engaging disability in their spaces and culture should search out people with disabilities to be part of the planning team for design as well as the culture of the company.
If a company has business resource groups (BRGs), disability should be one of them, or disability and chronic health challenges. This isn't just to support colleagues with disabilities, but to normalize the presence of disability and provide a safe space for teaching and discussing some challenging issues. It's a natural state of existence for many, and as we age many more of us will experience either temporary or permanent disability. Launching BRGs – historically affinity groups – also reflects a company culture where colleagues can bring their whole selves to work without deep concerns of being discriminated against or judged.
If you don't have the in-house knowledge to understand the challenges colleagues with disabilities might face with a certain space, there are non-profit organizations like Centers for Independent Living (CILs), professionals who consult on disability in the workplace, professional organizations like SHRM or Disability: IN, or great on-line resources like Job Accommodations Network (JAN) with a long history of educating on these topics.
---
How a hybrid workplace can help break down barriers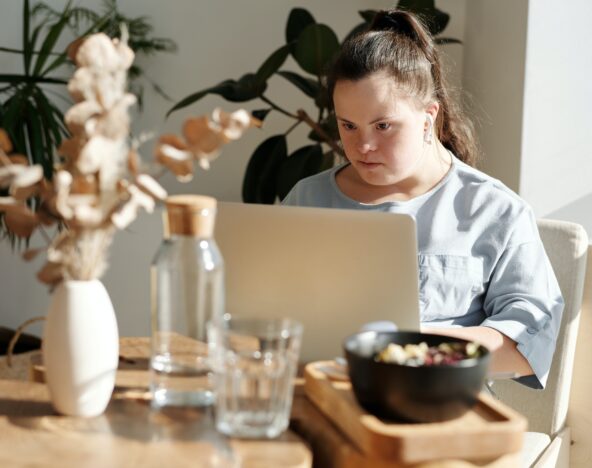 Remote work has helped remove some of the barriers faced by people with disabilities—both the obvious barriers like commuting and navigating inaccessible workplaces, but the less obvious barriers like bias in the hiring process.
In some ways, the "new normal" companies experienced during the COVID-19 pandemic benefitted professionals with disabilities who were able to remain in, or enter, the workforce. The transition to remote work and remote screening has negated, or at least lessened, the bias that's prevalent in face-to-face screening and interviewing against candidates with disabilities. A return to normal could expose that bias once more.
The COVID-19 pandemic has proven that a remote professional workforce, whether in whole or in part, can still be effective, creative and productive. A logical next step is the hybrid workplace, where employees can work remotely or in an office.
When implemented thoughtfully, a hybrid workplace can help lessen barriers that people with disabilities face when implemented in concert with cultural changes designed to welcome and support professionals with disabilities.
Committing to making workplaces more inclusive for PWD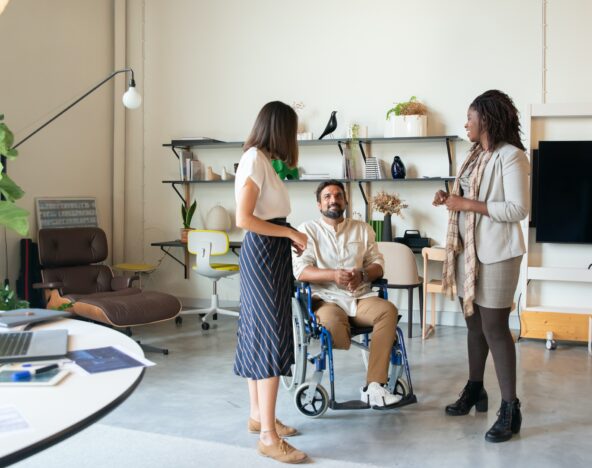 This year has been a year of growth and learning for so many organizations as they expand their minds and practices to be more conscious and inclusive of diverse populations. I recognize that change takes time—and that change takes commitment. The good news is that being an advocate for people with disabilities and creating a workplace that breaks down all the barriers for this community doesn't have to be a daunting initiative. Instead, organizations can make incremental changes to expand their outreach to and advocacy of people with disabilities.
It can start with candid, open conversations within your organization—both with your professionals with disabilities and with your general population employees. Look to the professionals with disabilities within your own organization to learn what challenges they're facing and the ways they believe these barriers can best be removed. Determine how to increase your employee population's awareness of the different types of disabilities and biases associated with them—and devise strategies to eliminate these biases.
By committing to making workplaces more inclusive for PWD, organizations are committing to the largest minority population on the planet. This professional population will bring creativity, resilience, team-work, dependability, and a unique life experience and perspective to the workplace. By shifting mindsets, companies and organizations can help support their employees with disabilities, access a deep pool of talent, and help inspire the next generation of team members.