The Many Dimensions of 3D Printing at SPR
Fifty-one sets of eyes grew wide as they looked out over the city of Chicago from the Willis Tower Skydeck. What began as a discussion about 3D printers ended up in a day of racecars, virtual reality games, pizza and sightseeing for two fifth-grade classes from the Southside's Evergreen Park Southeast School. For many of these kids, not only were they visiting Chicago's most famous building, but it may have been their first time in a city skyscraper.
It all began when a teacher and her colleagues at Southeast School were talking about teaching children technology during their 2018 Holiday party in the company of an SPR employee.  Naturally, he let them know SPR could help.  We recommended they apply for a grant to buy a 3D printer for their school, helped write the case for the grant and they won!  We offered to give students some context for understanding the uses and features of 3D printing technology. A field trip to SPR was planned.
The students were first shown the 3D printer in action, making a toy racecar based on a Lego® model. Then each student was presented with a bag containing all the parts to make their own car – wheels, chassis, top – along with five pennies. Each car took 5 hours to print and a big thanks goes to Matt Mead, our Chief Technology Officer, and his entire family that he enlisted to help produce the components for 51 racecars. After building their cars, students were asked to weight their cars with as many or few pennies as they thought would make it go fastest. Subsequent races on the 16-foot racetrack Matt also built proved that more pennies = more weight = faster speed on the speedway.
For their second activity, Pat Ryan our Chief Architect, had 5 computers and screens available helping the kids understand virtual reality.  By using sensors, students were able to "see" and "feel" their hands within the LeapMotion® program environment. Pat also built an optical avoidance autonomous robot with sensors that could steer itself away from objects in its path.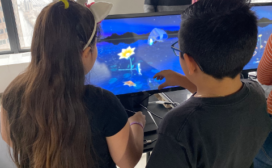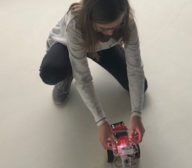 "The goal was really to excite the curiosity of these kids and show them what kinds of technology is already available to them," commented Mead. Following the technology demonstrations, SPR President Rob Figliulo treated the kids to a pizza lunch and talked to them about technology careers. After that, the students were taken to a VIP tour at the top of the 110-story, world famous Willis Tower.
Student responses were universally positive:
Jasmine: "Thank you for letting us have a field trip to your company in the Willis Tower. It was so terrific. When I told my mom I built a 3D car and what I learned, she was happy for me."
Calvin: "I have a question.  How do the monitors work on the computers?  Why does the 3D printer go slow? Do they have any movies casted here?  When you ever went on the SKYDECK, did you think you were going to fall?"
Bela: "I also thought the sensor beams were so interesting and how it was programmed. I was amazed how this technology works."
Trent: "Thank you so much for the pizza and the sky deck. The cars were awesome! I was that kid whose car kept winning and going the farthest."
Angel: "I also liked the robot vehicle, it had sensors to move, that's crazy. But most of all, thank you for your time and effort to make us happy not doing schoolwork."
Brooklyn: "Thank you for sponsoring us. We really appreciate it. Now I know what a 3D printer is. The glass box out the window was really cool. It was really fun to race the cars. I want to work there when I am older."
"Best Field Trip in 30 years of teaching….," says teacher Jean Geary.
Special thank you to Rob, Gina Figliulo, Pat Ryan, Matt Mead, Mina Gindy, Karen Davis, the Mead Family, Marcus Lyng and Murphy O'Rourke for all the effort they put into this.  You really make a difference for SPR!