Medical Company Improves Product Design Process and Products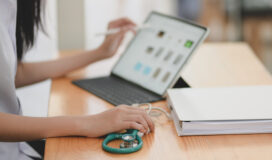 A medical content company helps pinpoint medical terminology across diverse coding systems and electronic medical records (EMR). This software ensures a person's medical records reflects their exact diagnosis and disease, critical information for clinicians, hospital administrators, and billing departments. Using a proprietary medical terminology database, the company's program translates between different coding systems by offering detailed definitions of conditions to achieve the highest degree of accuracy.
ADDRESSING A REACTIVE PRODUCT DESIGN PROCESS
In the past, the company built their products exclusively based on the experience of internal resources; they would then respond to feedback after the product was released and in the market. This reactive process was not customer-centric as the company would have liked and led to rework post-production.
SPR was brought in to improve the quality of the products they offer while maturing the product design process inside the organization. To achieve this, SPR integrated into the company's design team. SPR worked directly with the company's marketing, sales, customer experience and engineering groups to share research, insights and best practices. SPR also helped shape the company's qualitative product and market research, usability assessments, and design ops practices.
IMPROVING DEVELOPMENT PRACTICES
In particular, SPR helped the company add discovery and validation to their product design and development process. This has helped them target their product development to customer needs during the build.
SPR implemented maintainable processes that were rigid enough to be repeatable, but fluid enough to handle change. SPR helped the UX team adopt features of a design ops system, with touchpoints and meetings, communication pathways, and regular cycles. An internal Project Brief template was also developed that outlined the specific goals, questions, assumptions, methodology, responsibilities, and schedule for each project.
DEFINITIONS
Product Discovery: A first step in a product's development that seeks to understand through qualitative and quantitative research what a firm's customers find valuable.
Product Validation: Qualitative and quantitative research focused on testing with actual customers the design of a product to ensure it is delivering value to customers because the customers find the product to be both useful and usable, and even desirable.
DesignOps: Operationalizing design though repeatable process that includes how design work and deliverables are done and integrated into other business functions.
SHAPING THE COMPANY ROADMAP
In addition to the project and team building work, the company asked SPR to provide workshops at the company's yearly retreat on how to identify and mitigate bias when conducting research and gathering feedback. The company also asked for ways to take insights from research, feedback, and brainstorming, and turn this into actionable product goals that fit into their company roadmap.