SPR Empowers Energy Solutions Provider to Make Data-Driven Decisions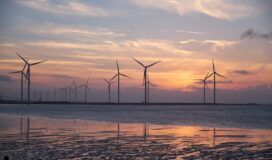 When the COVID-19 pandemic interrupted a company's data platform, the plans for expanding the data team went on hold. When it was time to pick the plans up, our energy solutions provider client was ready to turn their lean IT team into one that could support a robust operation.
Beginning as a Lean IT Team
Our client is a leading global developer and operator of sustainable energy solutions and one of the biggest companies in wind power and solar power in North America. They are growing rapidly but run very lean, especially in IT.
They wanted to expand their data organization and were looking to hire additional data professionals. While in the process of expanding, they were also looking to build their data platform and turned to SPR for help with the platform expansion and operations.
The client started building their Central Analytics Repository (CAR) platform a few years ago but discontinued work during COVID-19. Throughout the gap, a Business Analyst supported the platform.
The platform lacked documentation and a long-term, strategic vision and roadmap. With a data-intensive business, they needed a solution that would support:
Field operations teams with insight into the performance of their wind turbines, solar farms, and other equipment
Executives with monthly financials
Day trader groups within the company
Our client wanted an executive-level dashboard with accounting and financial information that uses CAR data sources. The dashboard would replace a complex monthly Excel report that was difficult to maintain and would allow Financial Planning & Analysis leadership and stakeholders to more easily see development spend data on a monthly and yearly basis.
Moving to Data Pipelines
To centralize Oracle and general ledger data into CAR, as well as draw in historical data, SPR established data pipelines. Originally, they could only see five days' worth of data, so SPR worked with our client to create a process that would bring in historical data dating back to the beginning of 2021, allowing analysis of historical trends. They also pull data from external data providers, including subscription data, pricing data and forecasting data. SPR helped set up data pipelines to routinely pull that data into CAR.
Originally, CAR utilized Databricks to call outside APIs, however in working closely with the client, SPR realized the data volume wouldn't require Databricks. SPR recommended a right-sized solution that would lower their cost of operations by moving to a lower-cost solution. We built a proof of concept to help stakeholders understand the benefits of how a codeless solution would be easier to maintain and better fit their needs.
Creating a New Process
We implemented monitoring and created a significant amount of documentation on common issues and errors the client might encounter with outside data vendors, as well as documentation on all regular operational processes. This documentation allows resources to quickly familiarize themselves with the platform.
Guard rails and governance were also problems. Throughout the process, we helped them develop a process-oriented and programmatic approach to IT projects. We helped the client create new a new process for bringing in new data sources, equipping the Data Manager with questions to ask business users when they make requests for new data and for new data points in existing data sources.
SPR implemented reports with Power BI to bring the data in the warehouse to life. Business users can now use report templates to create their own reports if needed. These new reports allow our client to make more informed, data-driven decisions.