SPR and Tech Month Chicago: Bringing Tech to the Community
Oct 20
2017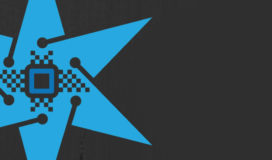 As a company, we seek out ways to come together, developing programs in support of like-minded organizations which impart knowledge, develop skills, and better ourselves and our community.
Collaboration at Its Finest
SPR and Tech Month Chicago
At SPR, we're so much more than a talented group of techies. We're makers, shakers, builders, DJs, ear wigglers, GOTers, marathon runners, and most importantly, collaborators. Collaboration is key to our mission, so when we heard that Melanie Adcock (Tech Month Chicago visionary and fellow collaborator) was looking for a corporate partner, we knew it would be a perfect match.
Serving Up a Dose of TLC (Tech, Love and Care)
We're not kidding when we say we like to help out. SPR's collaboration with Tech Month Chicago is the perfect example of how we combine our love for technology with our desire to help others. As a company, we seek out ways to come together, developing programs in support of like-minded organizations which impart knowledge, develop skills, and better ourselves and our community. To us, civic engagement is not just about donating to worthwhile causes. It's who we are at our core. So, when Melanie dreamed up Tech Month Chicago to serve as a conduit between tech companies and the city's diverse citizenship, it was only natural that SPR help take Chicago's tech talent where it's rarely (or never) gone: low income communities, diverse schools, special education programs, veteran support groups, and elementary schools.
The partnership began in 2016 when Pat Maher, SPR's Director of Civic Engagement, met Melanie on her weekly radio show, Tech Scene Chicago. The pair quickly discovered a common goal and teamed up to host a 3D printed pinewood derby at SPR in conjunction with the inaugural Tech Month.
To the Derby and Beyond
Committed to supporting Tech Month's mission for the long term, we amped up the volume to get ready for Tech Month Chicago 2017. SPR became the official corporate sponsor of the event and we worked closely with Melanie to create a strategic plan that would help expand Tech Month's reach. With our objectives set in front of us, we recruited SPR's brightest and boldest, rolled up our sleeves, and got to work.
Murphy O'Rourke was the first to dive in. He's a User Experience Designer at SPR with a background in graphic design. He tapped into his agency experience to develop a suite of branded materials including a sophisticated logo and guidelines. He showcased Chicago's hometown 6-pointed star to emphasize Tech Month's brand of inclusivity.
Murphy briefed the team on Tech Month's selected colors, fonts, and messages and teamed up with Kristin Rosa, SPR's Content Marketing Strategist, to create digital advertisements and engaging swag. SPR and Tech Month Chicago rolled out the new logo on custom stickers, photo booth props, and award ribbons to encourage event attendees to live Tech Month's mission and take a piece of Tech Month home.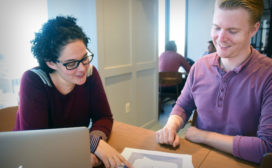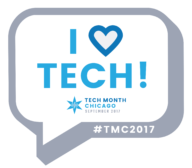 To further Tech Month's online presence, Kristin provided content for the brand's civic engagement messaging that included a how-to checklist on hosting a Tech Month Chicago event. Kristin also handles SPR's social media channels so she helped Melanie fine-tune an idea for a month-long social media contest. Event attendees were encouraged to take photos with Murphy's selfie bubbles and post a picture to Twitter or Instagram with the hashtag #TMC2017. If a single attendee snapped pics at three or more Tech Month Chicago events, they received a Techie Award Ribbon at the end-of-month awards ceremony.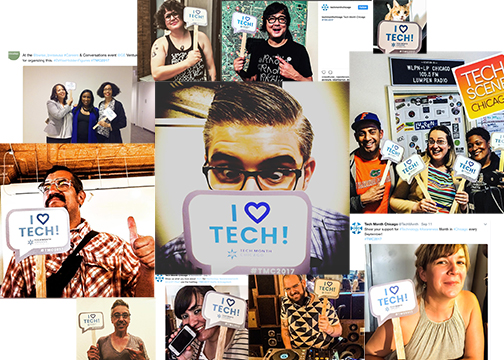 Lasting 30 days, with over 2,000 social media posts and 125 tech events, we'd say Tech Month Chicago 2017 was a pretty big success. At SPR, collaboration is so much more than just working together. In working with Tech Month Chicago, we helped turn an idea into a cultural happening — with the power to improve our community.