The DX Mindset: Digital Transformation is a Program Not a Project
Digital transformation. I still cringe – just a little – over the term. But behind every buzzword and loaded term are elements of truth ready to take shape and become relevant for your business. I know you've heard the term; perhaps your business is in the midst of a "digital transformation." If you're still thinking of it as a project, you're making a mistake.
Let's look at how you can reboot your mindset around digital transformation, and 4 guiding principles that will set you up for success.
Raising Your Vision and Mindset
Over the past few years, I have proposed, structured and overseen the delivery of several digital transformation initiatives. Recently, I had lunch with a friend, a CTO with a digital product and service company. My friend laughed and said, "Is digital transformation still a thing?" Despite this era of non-stop digital innovation, yes, it is still a thing. But it's a thing I see clients get wrong and even fail at ever fully implementing across their business.
So, how do we get it right from the get-go? I laughed at my friend's comment over lunch and said, "You've got to raise your vision, brother!" That's a huge step forward and an important step to make: raising your vision.
Digital transformation requires collecting, coordinating, and building momentum across a large range of areas and elements. Most leaders will appreciate this effort but may also underestimate it. To get it right, you must raise your vision. Digital transformation is a program, not a project or a series of projects. Digital transformation is a program, not a project or a series of projects. Click To TweetThis mindset will lead to more success across key digital transformation areas, elements and activations that will define your ongoing journey.
This becomes more evident when you look at the success and failure stories across the market. Organizations that have adopted a more programmatic mindset are now progressing through the stages of maturity, including turning digital transformation efforts into an internal discipline, or even developing departments within the cores of their businesses. This level of maturity would not have happened without the right mindset. IKEA is a great example. In 2017, IKEA acquired TaskRabbit as a part of their ongoing Digital Transformation journey, providing their customers with the service of delivering and assembling IKEA furniture. In addition, IKEA has implemented smart home projects and is also using Augmented Reality in their digital apps to make it easier for customers to furnish rooms and virtually try before they buy. Internally IKEA has organized accordingly and has a dedicated Digital Transformation team and leaders.
Programs are multi-faceted, cross-disciplinary and cross-functional. They require structure, mobilization, management and inspiration to move forward. So, like any program, a healthy digital transformation mindset is programmatic across key areas, elements and activations.
The DX Program Mindset
Spin a Google search on Digital Transformation (officially shortened to DX from this point forward) or look at any related article from a management consulting firm on the topic. You'll find lots of insightful information on where DX takes place. While there are unofficial lines of consistency across different POVs and perspectives, I want someone to put it plainly. No more intense depth and sophisticated frameworks.
Don't get me wrong. It is sophisticated. It is immense. But getting a clear sense of the "what" before the eventual "how" in plain terms provides clarity. Not too long ago, I was working with a client on prioritizing an innovation they wanted to take to market and use to spark longer term transformation. Even after working with multiple other consulting partners, the product leader kept asking me, "What are the areas and ultimate goals we should consider our north star? What do we need to be hyper-focused on to get traction toward success?" I said it comes down to intentionality and building momentum across four key areas: Experiences, People, Business, and Technology. Let's look at the guiding principles around these four areas.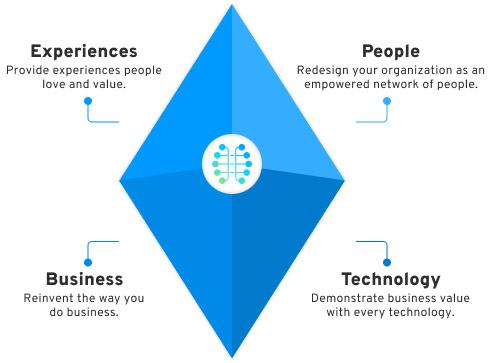 ---
4 Guiding Principles
Principle 1
Provide EXPERIENCES people love and value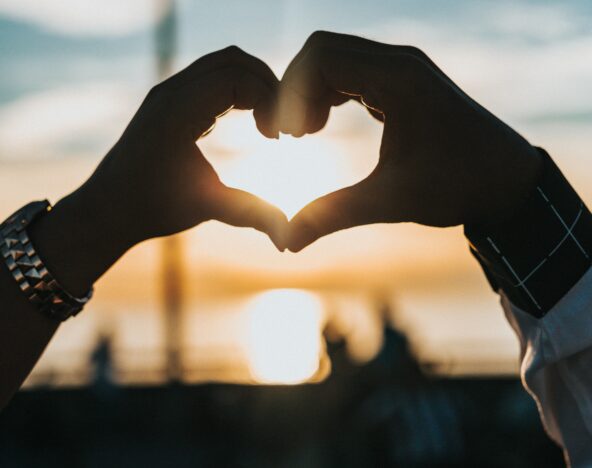 Provide EXPERIENCES people love and value
Engage customers with meaningful moments that offer ongoing value and are emotionally engaging. Empower employees with processes and tools that use their talents, build their knowledge and support their growth. Create new digital handshakes with partners to further the depth and value of your overall digital ecosystem.

The DX Program Mindset
A healthy DX Program Mindset will work toward customer, employee and partner experiences owned by dedicated teams that deliver modern solutions. To put this mindset into action, try these strategies:
Focus on building experiences that are seamless, smart, secure, on-demand, and create ongoing value
Manage and measure a baseline of user behaviors to ultimately inform digital experience strategies and product roadmaps
Align your strategies with the overall business plans of your organization
Meet and exceed the extremely high expectations of your customers, while giving your employees everything they need to do it
Use digital innovation opportunities as a catalyst for your own transformation journey and continuum
There is a critical symbiotic relationship between customer, employee and partner experiences that will drive your business growth and outcomes. Designing, developing and building custom experiences will raise productivity, increase engagement and result in a flourishing ecosystem that fuels the different facets of your business.
---
Principle 2
Redesign your organization as an empowered network of PEOPLE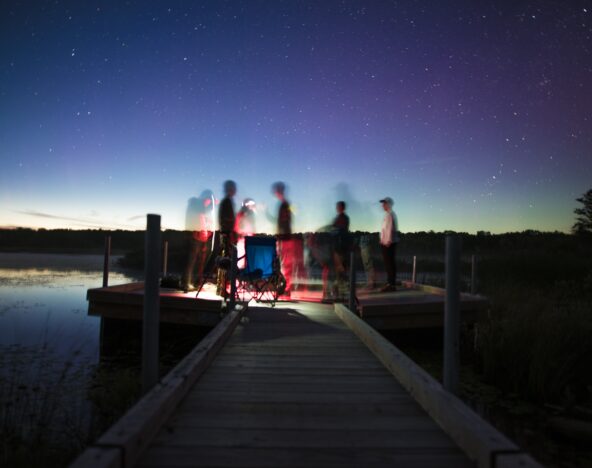 Redesign your organization as an empowered network of PEOPLE
Develop a culture of rich information systems so your team can share talent, skills and subject matter expertise easily and quickly.

The DX Program Mindset
Stay keenly focused on enabling teams to move faster, smarter and adapt more quickly. Here are some strategies and guidelines for this mindset: 
F

acilitate rapid learning 

t

o

 tap

 into the knowledge and talent of employees

 

Use

 that knowledge and talent for the mutual benefit of your business, customers

 

and partners

 

Evolve from legacy structures and o

rganiz

e

 for speed, 

agility

 and adaptability 

so you can

 compete and win in the modern business marketplace

 

 

Create a network of 

cross-functional 

teams

 

with select 

individuals 

that 

can be formed, 

disbanded

 and re

aligned with new teams for new projects

 as the business grows

 
It's no longer just about increasing digital literacy. It's about hiring the right people at the right time and embedding agile practices across your organization. These networked, cross-functional teams will be able to prioritize and execute specific business outcomes.  
---
Principle 3
Reinvent the way you do BUSINESS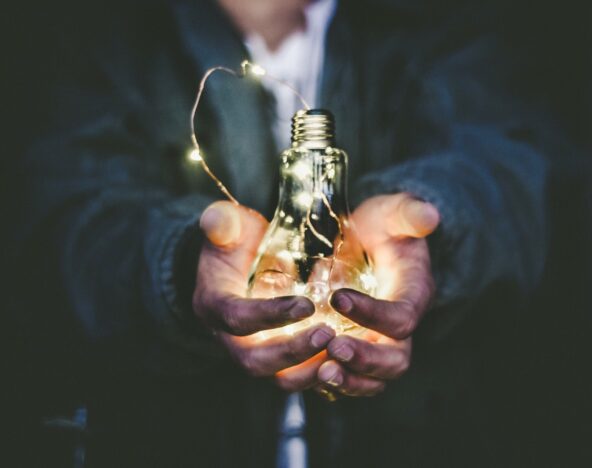 Reinvent the way you do BUSINESS
A DX program is a continuum of how experiences and technologies can be used to create new models for business, new ways to engage and serve customers, new depth and breadth of employee talent and skills, and new benefits and services for partners.

The DX Program Mindset
Embrace servant leadership, vision and inspiration to drive change. While it may sound a bit cliché, it's critical. Don't worry as much about failing fast, so much as scaling fast, while using digital innovation as an opportunity to compete and win in the marketplace with net new products and services. Focus relentlessly and act with a heart to balance people with the bottom line.  
Consider these strategies: 
Double down on digital

 

Treat

 innovation and transformation a

s

 investments, not 

as 

liabilities or cost-centers

Define a fresh vision, a new 

purpose

 and a plan for your portfolio of initiatives

 

Aspire to d

isrupt

, 

create

 and accelerate

 like a start-up, 

while embracing 

transformation as a continuous way of working
---
Principle 4
Demonstrate business value with every TECHNOLOGY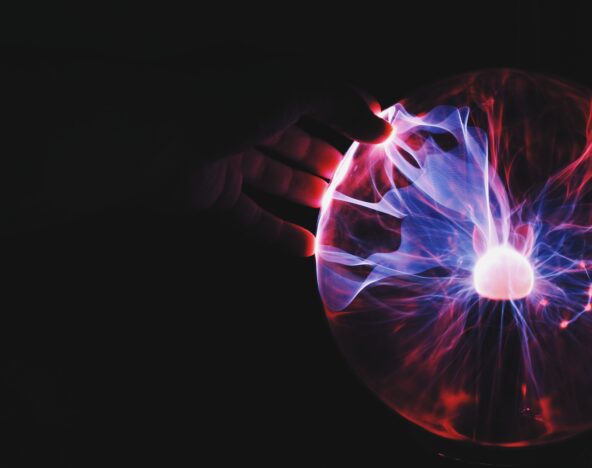 Demonstrate business value with every TECHNOLOGY
Business value is a leadership issue, not a technology issue, which is why it's critical to hire leaders that serve as business-minded technologists to guide and assess technologies with net benefits like increased revenue, saved time through automation, and market leading innovations.

The DX Program Mindset
Adopt a cloud-first strategy with a future-proof attitude. Again, just like you need agility with your teams, cloud platforms will offer agility for your systems and enable you to respond to constant change in a meaningful and cost-efficient way. Investing in data expertise is a must, so you can analyze data across everything you do. If experiences are the heart of your transformation continuum, then data is very much the beating of that heart.
Consider these strategies: 
Invest in business-minded technologists
Develop mature DevOps for advanced full-stack observability to meet business and customer needs

Eliminate silos by creating collaborative environments that bring together IT innovations with clear, intentional business outcomes

Use AI to build continuous automation of operations

 
Being able to map business value to your overall technology stacks will help you think strategically about how existing and emerging technologies will benefit your business. Be prepared to think beyond the obvious to focus on your entire stack and the interconnectedness you need now and the best selections to scale for the future.
---
How to Get Started: Build, Buy and Partner
We're living in an era when digital technologies and experiences evolve faster than organizations can adapt. Did you know that 52% of the Fortune 500 companies since the year 2000 are now gone? The rules have changed. Gone are the days of innovating solely on cost and efficiency. Driven by digital, companies innovate and transform by building, buying or partnering with specialized teams. In many cases, they're doing all three. Driven by digital, companies innovate and transform by building, buying or partnering with specialized teams. In many cases, they're doing all three. Click To Tweet
In recent years, we've seen great examples. Target went from outsourced teams to in-house expertise. In 2014, Capital One purchased Adaptive Path, a design and user experience firm, and created specialized teams to form new lines of business and launch significant growth in the past seven years. Even Domino's Pizza has created strategic partnerships to design and build new customer platforms that are driving success and change. 
Single vs. Multiple Partnerships
In some cases, I've seen organizations mistakenly think DX can happen with a single partner. Or they think a single partner can be asked to take on portions of a DX program that essentially fall outside their areas of expertise. This is not only risky, but also puts partners in an awkward position.  
A few years ago, I was helping a global drinks business prioritize and scale an IoT product innovation and transformation program. The exercise took months with multiple partners in the room at times. Toward the end of their partner selection process, the CIO asked me, "Do you think you would be able to structure an ROI for us?" I told him our team could focus on structuring ROI around our areas of expertise – user experience and IoT technology. But if he wanted a larger and more sophisticated ROI, he should work with the management consulting company in the room. I told him it would be the best option for the business.  
He replied, "Yeah, no. Your team really speaks our language, so we want to go with you." The CIO was pulled into another conversation, and I was left concerned. He didn't seem to think having multiple partners set the foundation for success.  
Work with Integrity
Recently I had a conversation on this issue with Melissa McElroy, SPR's Director of Solution Delivery. She nailed it. "We can't pretend to be something we're not," Melissa said. "We need to be a good partner by educating and supporting potential clients despite establishing a partnership and closing a deal." We can't pretend to be something we're not. We need to be a good partner by educating and supporting potential clients despite establishing a partnership and closing a deal. ~ Melissa McElroy, SPR Click To Tweet  
Beware, though. Throughout your digital transformation journey, you may not always run into partners with this level of integrity.  
When it's all said and done, you will have many partners throughout your journey and continuum. My advice? Pick partners and hire people who help you live the right mindset. Doing so will successfully activate lasting change across the key areas of Experiences, People, Business and Technology. And while the thoughts represented here are by no means exhaustive, hopefully it helps elevate your thinking around DX as more than just a series of projects and inspires you to think about how you might get started. Speaking of which, now that we've covered a bit of the "what", let's next focus on the "how" you can kickstart Digital Transformation. Stay tuned!