A Week in the Life of Sales & Marketing Coordinator, Desma Xayarath
Jun 08
2017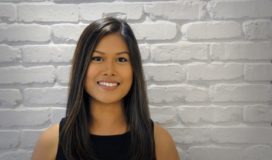 We provide excellent support and service to our clients to help them solve their most important business challenges. Every day I aim to support SPR teams so they can focus on what's most crucial: delivering value to our clients.
Monday – Find a Restaurant
I love hunting out great places to eat in Chicago. But today's search is different. I need to book a restaurant for our next Expert Series Dinner – an event our marketing team cooked up that brings together SPR, customers and industry leaders to talk and learn from each other. My goal is to give them a comfortable evening – one where everyone is open to talking innovation, trends and concerns in the industry.
I've booked a site visit today with a restaurant in the Loop to make sure this venue is a good fit. I found it through one of the websites I follow – Chicago Eater, Thrillist, Time Out – they're great resources for what's new in the city. I double check the address and head out.
Here is my checklist:
Does it have a private room big enough for our group to network?
What's the ambience like? Impressive for high-level executives?
Is there a diverse menu to cater to a wide variety of food preferences?
Will it fit within the budget?
Back at the office, I can cross "book venue" off my to-do list, but this event is far from finalized – fingers crossed our guest speaker is still available on the same day the restaurant is. You call it event coordinating? More like juggling act.
Tuesday – Check in with Sales & Marketing
Every Tuesday morning, I coordinate the Business Development Manager (BDM) team meeting, where our sales team catches up on goals met, what opportunities are available, and a host of other topics that arise each week. For example, the Marketing team created a new case study video, promoting the innovative work we did with iPEK and IDEX. Since I work closely with both Marketing and Sales, I know the importance of the video and want to make sure our sales team is utilizing it. I give the video a plug and remind the BDMs to share it with their contacts through email and social. Plus, we've had a few leads come in already thanks to the video. I remind the sales team to follow up with these leads.
Wednesday – Build a Workshop
As I check email first thing this morning, I hear it. The sing-song hum of the 3D printer just a few yards away. We are builders, developers, testers, creatives. What kind of tech company would we be if we didn't have a Maker Space? This is SPR's spot for innovation, a creative outlet for technology ideas or recreational projects – everything from bobbleheads to fidget spinners to wall art.
My goal is to develop some fun workshops for any employee who wants to learn the Maker Space equipment. Today, I meet with CTO Matt Mead to jot down a few plans – we set the dates for the first four workshops and identify possible themes and facilitators. Personally, I'll be attending the Customized Stamp Making Workshop.  I can't wait to make my own wrapping paper for the holiday season!
I'll need to promote the workshops, of course, through our internal portal. We'll provide attendees (and everyone, really) with videos and cheat sheets as resources in the future, storing these in a digital repository for easy access anytime.
Thursday – Attend a Team Event
I coordinate many events. But sometimes, I also get to attend them, too! My favorites, to tell the truth, are the SPR team building events. I love coming up with fun ways to bring employees together. We're big on sports around here, so Cubs and White Sox games are popular outings.
Today I am joining the Business Development Managers at Wrigley Field. I worked with the team over the past few weeks to decide what they wanted to do this quarter, bought tickets, and made a lunch reservation right next to the field. Now, I get to sit back and have a great time with my teammates!
Friday – Wrap Up a Conference
No marketing department's efforts would be complete without a fair share of industry shows and conferences. In the past six months, we've hit Quest Conference, Camp IT, Microsoft CXO Summit, SharePoint Fest, Microsoft Tech Summit – am I missing anything? Plus, we also sponsor many of these conferences, man a booth, provide feature speakers, host after-hours social networking. These events take loads of preparation.
Today, I'm wrapping up the one-day Camp IT Conference we attended in Chicago. I'll spend the next hour entering our "fishbowl" prospects into SalesForce for future nurturing. Plus, the leftover marketing materials, booth banners and SPR swag needs packing up for storage – we can reuse most of this at the next event. One of our presenters at the conference stops by too – his FinOps presentation at CampIT went well! The SPR marketing, governance and cloud teams definitely made a concerted effort on his presentation deck – proof we collaboratively practice what we preach!
It's been another busy week at SPR and I'm ready to wrap up things for the weekend. I found a new restaurant I want to try out tonight – never know, it might be a great place for the next SPR outing!