Streamlining Production and Delivers New Customer Value
Vehicle Parts Manufacturer Streamlines Production and Delivers New Customer Value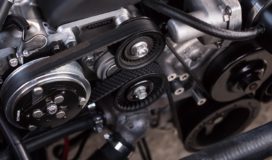 Accuride had an IBM iSeries-based electronic data interchange (EDI) solution that required frequent attention from IT personnel and was expensive to operate. The company used the Microsoft application platform to build a new solution that not only improves integration, but also streamlines production planning and provides customers visibility into certain manufacturing processes. Developed in four months with assistance from SPR, the solution has improved factory operations and delivers new customer value. Accuride is realizing technical benefits as well, including high developer productivity, minimal deployment costs, reduced ongoing costs, and a decreased IT workload. Furthermore, the solution's scalability, reliability, flexibility, and ease of management will help Accuride take advantage of the solution in the future.
Situation
Accuride Corporation designs, manufactures, and distributes components for trucks, trailers, military vehicles, and construction vehicles. The company's products include wheels, wheel-end components and assemblies, truck body and chassis parts, seating assemblies, and other commercial vehicle components, which Accuride markets under the brands Accuride Wheels, Gunite, Imperial, Bostrom, Fabco, and Brillion.
Accuride exchanges information with its trading partners using electronic data interchange (EDI). Prior to 2007, Accuride used a software package from Inovis which ran on an IBM iSeries, to provide those EDI capabilities. All maintenance of EDI capabilities was done on the iSeries, which validated and processed EDI messages received from trading partners before passing them to the company's Infor Business Planning and Control System (BPCS) enterprise resource planning application, which also ran on the iSeries. Although the solution enabled Accuride to integrate electronically with key trading partners, it also presented several drawbacks:
Invalid or incomplete data. Incoming EDI messages were often inaccurate, with missing part numbers or invalid part combinations. IT staff had to intervene to resolve such issues, and all troubleshooting had to be done on the iSeries.
High costs. The cost of supporting the EDI solution was steep—in part because incoming files were large and were transmitted through a value-added network.
Difficult changes. Changes to the EDI system, such as defining custom business rules or adding support for new trading partners, took several hours to implement and presented additional risk to an already fragile platform.
In looking to ease its integration pains, Accuride decided to start with the production sequencing process, in which customers send EDI 866 documents that specify how items ordered are to be assembled, stacked, and shipped. "We rely on the content in EDI 866 messages for information that the factory floor needs for just-in-time fulfillment of orders," said David Stefanich, Corporate Director of IT at Accuride. "Problems with those messages could result in production downtime."
However, Accuride had to do more than just solve its integration challenges. The company had acquired an Assemblies-on-Time (AOT) facility at which Accuride wheels are joined with tires, valve stems, and other components to create finished wheel assemblies. It needed a new production scheduling application to support the migration of the AOT facility to BPCS, which didn't include the needed production scheduling functionality. In addition, Accuride had to provide customers that rely on those facilities with visibility into the status of orders, inventory levels, and shipments.
"What we really needed was a comprehensive application platform, with rich integration capabilities being only one key requirement," said Stefanich. "We also had to deliver a new scheduling system and expose the data in multiple systems for access over the Web. We knew that our existing iSeries wasn't a viable platform on which to meet such needs."
Solution
Accuride selected a comprehensive application platform based on Microsoft® software, which enabled the company to build a solution meeting its needs. Developed  in only four months, the solution consists of four main components:
A service bus that validates incoming EDI messages, orchestrates corrections to those messages, and moves data in and out of the company's production-planning and enterprise resource planning (ERP) systems. This component is based on Microsoft BizTalk® Server 2006 R2, the second release of BizTalk Server 2006.
 An intranet site based on Windows® SharePoint® Services. The site hosts Microsoft Office InfoPath® 2003 forms that make it easy for business users to correct any errors in incoming EDI messages.
A scheduling application that production planners use to fine-tune production schedules after the EDI messages are received and validated. The scheduling application is based on Microsoft ASP.NET.
An extranet site, also based on Microsoft ASP.NET, that exposes data in BizTalk Server, the scheduling application, and the ERP system for access by customers over the Web.
All four components were developed using the Microsoft Visual Studio® 2005 Professional development system, run on the Windows Server® 2003 operating system, and use Microsoft SQL Server® 2005 data management software for data storage and reporting.
Choosing an Application Platform
In selecting an application platform, Accuride desired a single programming environment with which it could build solution components. Ideally, the environment would not only meet technical requirements, but would do so in a way that enabled the company to take advantage of its existing IT  infrastructure and skill set. "We wanted to build and maintain the solution in-house," said Stefanich. "It's for that reason that we dismissed hosting part of the solution with an outside company. By doing so, we eliminated a significant base fee, plus eliminated the going-forward additional fees for each new trading partner we added to the solution."
Accuride also examined whether it could meet its needs using an Invois product but determined that the iSeries application could not even support its core integration requirements. "We knew that the best design was to convert incoming EDI messages—and other formats that customers might choose to send—into a common, XML-based canonical format for processing, which also aligns with Automotive Industry Action Group standards," said Stefanich. "However, the software we originally looked at could only output comma-delimited files."
Because integration capabilities would be key to the new solution, Accuride spent a good deal of time evaluating BizTalk Server 2006 R2, the component of the Microsoft application platform that supports integration and business process orchestration. Capabilities of BizTalk Server 2006 R2 that the company found attractive included:
Loose coupling. BizTalk Server 2006 R2 supports a flexible, loosely-coupled approach to integration, which simplifies how messages are transformed, processed, and ultimately passed on to other systems.
Adapter framework. The BizTalk Server 2006 R2 adapter framework provided prebuilt plug-ins for integrating with most other systems—in a manner that wouldn't require extensive custom development.
Native EDI support. The BizTalk Server 2006 R2 mapper, which is used to specify how incoming and outgoing messages are transformed, includes native support for common EDI documents. Developers can generate transformation maps just by selecting the appropriate EDI document and using the mapper's graphical interface to specify how those messages are converted to a canonical, XML-based internal format.
Reliability and scalability. The publish/subscribe model used by BizTalk Server 2006 R2—in which messages to be acted upon are stored in a common message box—provides a high degree of reliability. Similarly, the host-based architecture of BizTalk Server 2006 R2 enables an organization to scale the solution easily as EDI traffic grows, just by adding servers.
In the end, Accuride chose Microsoft software because it met technical requirements and would enable rapid solution delivery through the ability to take advantage of existing IT infrastructure and developer skills. Furthermore, it was the most cost-effective of all options considered. "The Microsoft application platform met our technical requirements and provided the best fit with our existing technology base, application portfolio, and IT skills," said Stefanich. "We did an architecture review and cost analysis, and Microsoft came out the clear winner."
Development Process and Timeline
Development of the solution started in June 2007. To assist with the implementation of BizTalk Server 2006 R2, Accuride enlisted the aid of SPR, a leading provider of business process management solutions based on Microsoft software and a Premier Microsoft Solutions Partner. "We chose SPR for both their deep expertise with BizTalk Server and functional EDI knowledge," said Stefanich. "With their assistance, we were able to complete the integration component of our solution in only eight weeks."
Chris Kabat, Director of Connected Business Systems at SPR, a member of the Microsoft BizTalk Server Virtual Technical Specialist Team added, "It was perfect alignment from both a people and product standpoint. Similar architectural views were shared by both companies. Specifically, taking a service oriented approach using BizTalk not only helped us rapidly build a robust solution, but really helped us build an advanced platform to implement Accuride's future vision for IT."
Development of all solution components was completed by August 2007. The solution went live on September 3, and currently supports the company's AOT facility. "Our new solution is streamlining the current production of our wheel assemblies," said Katie Magoteaux, General Manager of the Accuride AOT facility. "When the market picks back up and our production levels dramatically increase, we look forward to added advantages and increased efficiencies that will be realized as a result of this solution."
Integration Flow
Figure 1 shows how Accuride is using BizTalk Server 2006 R2 to support the production-sequencing process—the first of many such EDI transactions it plans to support. Each transaction passes three stages of processing (receipt, validation, and delivery), which are loosely coupled to facilitate ease of maintenance, changes, and future enhancements.
Receipt. On the perimeter, BizTalk Server 2006 R2 is used to receive EDI documents from partners and transform them to a canonical form. In the production-sequencing scenario, this entails retrieving two EDI X12 866 documents (summary and detail) from a file share, combining them into a single, canonical, XML-formatted message, and transmitting an EDI 997 acknowledgment message. "The transformation of EDI messages to a canonical XML format is where BizTalk Server really shines," said Matt Dewig. "We originally planned to use a different application for this function, but found that BizTalk Server was better fit for our business situation."
Validation. Transformed messages are validated through a set of global and trading partner–specific rules, which are implemented using a combination of the BizTalk Server Business Rules Engine and Web services. If the solution detects errors, it uses the SharePoint adapter for BizTalk Server to route the canonical documents to a Windows SharePoint Services document library. Windows SharePoint Services alerts business users when such a message is detected, at which time the business users can use Office InfoPath forms to view and modify the data in the message. BizTalk Server watches the document library for such modified messages and, when one is detected, picks it up and revalidates it.
"Because it was difficult to track down errors in the past, we added a validation step that validates incoming EDI documents and, if necessary, enables nontechnical users to repair and resubmit them," said Dewig. "As we were designing the validation flows, we realized that other types of EDI transactions had similar problems, so the process was made generic enough to extend to other EDI transaction sets."
Delivery. Validated messages are then delivered to the appropriate back-end systems. In the case of production sequencing documents, BizTalk Server places the documents in the SQL Server 2005– based database that supports the scheduling application.
Scheduling Application
The company's new production-scheduling application, which was built by a single developer, is an ASP.NET application that is hosted on Internet Information Services version 6.0, the Web server built into Windows Server 2003, and uses SQL Server 2005 as its data store. The website was developed using the C# development language and makes use of Asynchronous JavaScript and XML (AJAX) programming techniques to improve UI responsiveness. After BizTalk Server places the information from the 866 messages (which are received the day before those orders are to be produced) into the scheduling application's database, production planners use the application to fine-tune the next day's production schedules, making any adjustments needed to account for out-of-stock parts or other issues. BizTalk Server watches for those changes, retrieves the modified data from the database, and uses its DB2 adapter to insert the data into the DB2 database that supports the company's BPCS ERP system running on the mainframe.
In developing the scheduling application, Accuride took advantage of SQL Server 2005 Reporting Services to deliver several printer friendly reports for production planners. Reports containing data from both the application's own SQL Server–based database and the DB2 database for the ERP system are available, as are reports that utilize data from both systems to show, for example, inventory shortages against production requirements. (The reporting capability achieves integration with the ERP system through SQL Server stored procedures, which in turn call the DB2 database on the iSeries.) Another report shows any data validation or processing errors detected by BizTalk Server.
"SQL Server Reporting Services made report development a lot simpler," said Accuride Systems Analyst Andrew Buchanan, who implemented the scheduling application. "The report design work itself was insignificant—a whole lot faster than having to code reports by hand. And with the built-in capabilities of Reporting Services, we were able to give business users the ability to export reports to Office Excel® or Adobe Portable Document Format without any additional development. In the past, people had to print pages and pages of large-format mainframe reports. Today, they can print the reports we give them—designed specifically to meet their needs—and carry those few pages around in their back pockets."
AccuSolutions Portal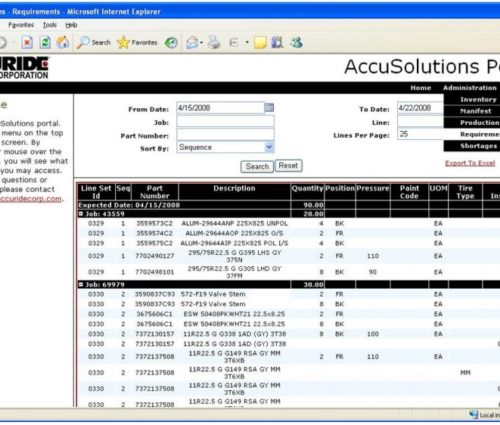 Figure 2 shows a screen shot of the AccuSolutions extranet portal, which provides visibility into inventory levels, scheduling, production sequencing, and other aspects of the just-in-time manufacturing process. Like the scheduling application, the portal was developed using C# and is hosted on Windows Server 2003. Similarly, reports exposed through the portal provide data from BizTalk Server, the production-scheduling application, and the ERP system running on the mainframe. In building the portal, the developer used ASP.NET master pages to provide a consistent look and feel across all Web pages. "There's only one page layout for the entire project," said Jared Smith, the Systems Analyst at Accuride who implemented the portal. "Another real time-saver was the ability to use Visual Studio 2005 for all aspects of development—from designing the portal's Web pages and reports to writing and debugging the database calls."
Hardware
Altogether, the company's solution runs on six server computers:
BizTalk Server 2006 R2 runs on two HP ProLiant BL25p G1 blade server computers, each configured with one dual-core processor and 2 gigabytes (GB) of RAM. Failover capabilities are provided by the BizTalk Server host-based architecture.
The Microsoft ASP.NET scheduling application runs on two load-balanced HP ProLiant DL380 G3 server computers, each configured with one dual-core processor and 2 GB of RAM.
The AccuSolutions extranet portal resides on one HP ProLiant BL25p G1 server computer, which is configured with one dual-core processor and 4 GB of RAM.
All components are supported by an HP ProLiant BL25p G1 server computer running SQL Server 2005, which is configured with one dual-core processor and 4 GB of RAM.
All of the above systems are supported by an HP StorageWorks EVA 4000 storage area network (SAN). The extranet servers use trusted Web services to communicate with the database server through the company's firewall.
Future Plans
With the production-sequencing process now implemented, Accuride is planning to extend the solution's use to other EDI transaction sets, such as 856 (Advance Shipping Notice) and 810 (Invoice). "We plan to use BizTalk Server to support the complete complement of EDI documents, eventually discontinuing our use of the iSeries solution altogether," said Stefanich. "In addition, we plan to extend our new solution to support other production facilities as well."
Accuride also plans to take advantage of its new solution to begin supporting messages in the Automotive Industry Action Group format, another standard for document interchange in the company's industry. "With the loosely coupled architecture we now have in place, supporting new integration standards is as simple as adding a new transformation map in the receive process," said Dewig. "The validation and delivery steps shouldn't need to change."
The company will use its new solution to support other aspects of doing business electronically as well. "I can envision expanding our use of BizTalk Server to support all aspects of e-commerce, such as bank submissions and Automated Clearing House transactions," said Stefanich.
More Predictable Factory Operations
Using the new solution, the company's AOT facility is able to resolve errors in EDI messages much faster, enabling the company to stay focused on the just-in-time schedule and meeting customer needs. "The time to resolve discrepancies in incoming customer requirements is much faster now, which is critical for just-in-time manufacturing," said Magoteaux. "Before, if there was an error with an EDI message, it could take up to 24 hours to resolve. Today, similar issues are resolved in an hour or two at most."
New Customer Value
The AccuSolutions portal is delivering new value to its customers as well—and in ways other than just the on-time fulfillment of orders. "We're a value-added operation—it's what keeps me in business," said Magoteaux. "Our customers own the inventory we manage, so the increased visibility the portal provides into production schedules, inventory levels, and shortages is helping them to better control inventory costs. They can essentially see all the same information that we use to manage our operations, with the data now at their fingertips as well, enabling us to work together to create new value for their business. In the past, all they could see was what's in the warehouse. Today, customers have visibility all the way down the assembly line, from inventory levels for raw parts to the finished assemblies that are headed back to them on a truck."
Technical Benefits
By choosing to build its new solution on Microsoft software, Accuride was able to meet all its needs quickly and cost-effectively, working in a single programming framework and tool set that enabled the company to take advantage of existing developer skills. "The Microsoft application platform gave us everything that we needed to build the solution, including powerful integration and business process orchestration tools, comprehensive data management and reporting, and a full-featured Web and portal environment. And all those capabilities were accessible through a unified, highly productive tool set," said Stefanich.
Some key benefits provided by the company's decision to use Microsoft software include:
High developer productivity. Accuride developed its new solution quickly, with low development costs. All parts—including BizTalk Server, the scheduling application, and the Internet and extranet sites—were implemented by four developers working part-time in only four months, including the time required for testing. "We were able to deliver a lot of functionality very quickly," said Stefanich. "There's no way we could have accomplished so much in such a short period of time—and at such low development costs—with any other application platform. Our previous platform had evolved over eight years and it seems like we were always tweaking it. In four months, using Microsoft software, we not only replicated the functionality of our iSeries solution, but also delivered significant new value."
Minimal deployment and infrastructure costs. Software licensing and hardware costs for the solution were "minimal," according to Stefanich. "We're a Microsoft Enterprise Agreement customer, so our costs are very competitive," he said. "BizTalk Server was the most  expensive solution component, and it was still far less costly than anything else we considered."
Lower EDI-related costs. By moving off the prior platform the company is incurring a savings in EDI-related, third-party support costs.
Reduced IT workload. Because business users are now able to troubleshoot EDI transactions on their own, Accuride eliminated the ongoing support burden that the previous solution placed on its IT team. "We've been able to hand off the processing of e-commerce transactions from the IT department to the business community, which benefits everyone," said Dewig. "Business users can resolve  issues faster because they now have the tools to apply their own intimate knowledge of business processes, and we're able to remain focused on new IT initiatives instead of supporting those existing business processes."
Strong scalability and reliability. Accuride has not experienced unplanned downtime since the solution went live on September 3, 2007, and the solution can easily handle several times its current workload. However, if additional processing capacity is required, each component of the application can be scaled separately as needed. "We've had no issues since deploying the new solution," said Dewig. "And as we continue to add more EDI transactions and customers, we can easily scale the solution without having to write new code.  Thanks to the host-based architecture of BizTalk Server, we can even break apart the receive, validate, and deliver functions that it performs and scale each one separately."
Superior flexibility. Loose coupling among all solution components—and among the various integration tasks performed by BizTalk Server—will enable Accuride to easily expand its solution without fear of breaking existing functionality. "With the solution we have in place now, we'll enjoy great flexibility and agility in making changes or supporting additional transactions," said Dewig. "As Microsoft continues to extend the integration capabilities of BizTalk Server to support new standards, we'll be able to easily take advantage of those capabilities without having to learn any new technologies or tools."
Ease of management. Although the solution introduces BizTalk Server into the company's IT environment, any increase to
the company's system management workload will be negligible. "We can manage BizTalk Server and other solution components with  the same tools, skills, and processes that we use to support our Microsoft server solutions," said Stefanich. "All systems are hosted in our Evansville data center, where we use Microsoft Systems Management Server 2003 for most aspects of administration. Although the solution has delivered new business capabilities, from a systems management and support perspective, it's just another few more Windows Server–based machines in a rack."