Corporate Data Sharing – It's Time.
Jan 31
2017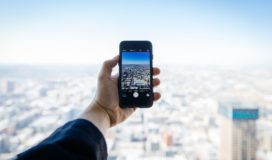 Despite the challenges, the potential benefits of venturing into the data sharing equation are undeniable. Open data is a critically important resource, not only for government and non-profits, but for consumers and businesses as well.
We live on this planet. All of us. As a consequence, we share everything associated with it. Its resources, challenges and mysteries can have an impact on each of us.  Likewise, the world's data, which continues to balloon exponentially, can bring astonishing gains when it's collected, disclosed and interpreted. As we communally embrace this truth, our power to positively shape the world we share increases in awe-inspiring ways.
A stunning example of this is Habitat III, hosted by the United Nations this past October in Ecuador's exquisite ancient capital city, Quito. This year's gathering (convened every twenty years since 1976) welcomed 30,000 individuals from governments, companies, non-profits and academic institutions. Their mission included sharing best practices, celebrating successes and approving a New Urban Agenda born from years of negotiations among United Nations member states.
There was much to discuss, but one of the most spirited topics was centered on the Global Municipal Database. In March of 2016, top officials from UN-Habitat and the Lincoln Institute of Land Policy penned an agreement to launch a global fiscal municipal database. While the pilot has focused on reporting and sharing data from a select group of cities in Asia, Latin America and Africa; the ultimate scope is much grander – to facilitate a framework that supports sustained fiscal health of municipal governments around the globe. Envisioned as a comprehensive online resource for city leaders, academics and private sector stakeholders; the solution provides broad access to and transparency of information that propels intervention and protects cities before fiscal stress reaches near unsolvable levels.
At Habitat III, Lourdes German, Director of International and Institute-wide Initiatives at the Lincoln Institute, wowed the crowd with achievements the pilot has yielded so far.  Using a dashboard built on Microsoft technologies (Azure, Power Map and Power BI, among others), German demonstrated how the Global Municipal Database tracks vital fiscal indicators including revenue, expenditures, debt-levels and more. The dashboard gives communities the ability to visualize the data and take specific action based on gleaned insights. A bonus; the technologies have numerous functions that are Excel-based, making them immediately accessible to millions who are familiar with this fundamental tool.
Explosion of the Open Data Movement
The term open data is a lot older than one might think, apparently coined for the first time in 1995 in a document from an American scientific agency. The authors wrote: "Our atmosphere, oceans, and biosphere form an integrated whole that transcends borders." Their intention was to promote open exchange of scientific information between countries to facilitate the analysis and understanding of these phenomena. Clearly, initiatives like the Global Municipal Database have brought the open data concept to vivid realization.
The Open Data Movement has unearthed over a million datasets made available to whoever has an interest in exploring them.
And it just keeps expanding. Today, there are more than 7 Billion mobile subscriptions in play. The volume of mobile, social and digital data that's available now is near infinitesimal. With all this data swirling around, the overarching wisdom continues to predict that this vast reach of datasets holds the key to addressing our most pressing social, economic and political challenges. To date, the Open Data Movement  has unearthed over a million datasets made available to whoever has an interest in exploring them, largely from government agencies and departments.
But here's an interesting distinction, data held by corporations has been far more difficult to access. As it stands, most companies remain unwilling to share the data they collect due to a span of apprehensions. Primarily, the caution churns around the legal ramifications of privacy and security, but trade secrets and proprietary issues also generate basis for concern. Yet, change is in the air. There are growing attempts by some corporations to open up their datasets to public interest organizations, researchers and third parties – primarily to offer opportunities for analysis and decision support. This cooperative joining of diverse geo-spatial datasets (those from open government and open science data) with original datasets from corporate providers has yielded surprising and valuable insights.
The Pioneering Efforts of City Digital
This kind of corporate and private data and intelligence sharing is being executed to ultimately remarkable effect by City Digital of UI Labs. UI Labs (an industry led innovation accelerator based in Chicago) brings universities and industries together to identify problems, define partnerships and deliver scalable solutions to tomorrow's most important challenges. Its current undertaking is one of massive scale and potentially unprecedented reach. Along with partners that include Microsoft, Accenture and the City of Chicago; City Digital is on a mission to map the entire underground of the windy city. It's an almost unimaginable endeavor.
Grab a shovel. There's work to be done.
At a high level (very high) the process is simple. During each of the city's scheduled 125,000 digs, someone walks around with low energy capture technology, (i.e. a cell phone camera), and takes a bunch of pictures. These images are converted to Computer Aided Design (CAD) grade data and are used to build out 3D renderings. The digital assets from the dig are then capable of being manipulated in countless ways. They can literally be spun around, turned upside-down, tilted, twisted, labeled and color-coded. Next, they are brought together like a million puzzle pieces to create a giant 3D map revealing the breadth of cables, concrete, wiring, tunnels and who knows what else.
The data inputs and subsequent integration, analysis and project management process are integral.  On the data side, the mashup of public and private inputs is extremely diverse and much of it highly proprietary. Included are city maps, schematics from telephone and utilities companies, city historical records, diagrams of construction projects and much more. Bringing it all together and deciding who has access to what does present complications. A fair amount of the data is mission critical but proprietary, and not everyone on the project has the needed access level to interact with it. For example, in some cases, one could see a segment of the mapping but not be informed regarding every aspect of the image. They may see an element, realize that something is there, but due to a voiding process have no knowledge of what the element actually is. Obviously, the appropriate agreements regarding access levels and disclosures were executed in the early stages of the project.
As these kinds of projects expand, the learning will be applied to other interested entities. In fact, that's the point. The learning (and data) can be made available as third-party data to a variety of stakeholders. Third-party data is data you can act on that comes from other providers. It's not your own user data, nor is it coming to you from direct relationships or publishers. It's typically offered in segments like civic or politics or entertainment. The intelligence and processes exercised by City Digital, for example, could surely benefit other cities and (quite possibly) other types of mapping ventures.
There are growing attempts by some corporations to open up their datasets to public interest.
Progress is not a Straight Line. But it's Progress.
Though many challenges remain, the potential benefits of venturing into the data sharing equation are undeniable. Open data is a critically important resource, not only for government and non-profits, but for consumers and businesses as well. A growing list of results proves out the assertion.
Consider this. Over the past two years, venture capitalists have invested more than $2.7 billion in digital health startups. Read that, a ton of money. Even though these entities are in various stages of development, from beta to fully functional companies, the anticipated outcomes are lofty. These start-ups are using public data to generate a wide-array of value propositions; from helping families estimate healthcare costs to guiding community leaders on how to pinpoint at-risk populations and implement programs that affect change. One particularly fascinating example is the Biodigital Human, a massive library of 3D anatomical models for use by educators, healthcare providers, developers and businesses.
At this point, it's impossible to estimate the overarching wins that'll be generated when more of the private sector finds its way into the sphere of data sharing. What we know is this – as solutions which address the issues of security, privacy, and proprietary information gain traction — more and more companies will sign on for the ride. Still, there's a catch. Those solutions will only be verified when the firms truly begin to share data.