Technologist's Guide to Working from Home
As someone who has worked from home for several years now, I have learned a lot about how I need my home office to operate. As technologies continually change, so do my expectations for what a home office needs to deliver. This year, I have had many conversations with friends and colleagues about adapting to a work-from-home culture. That's when I realized – our traditional concept of the "home office" needs an upgrade.
For most of us, 2020 changed what a home office should provide. Remote work became normal; yet, our homes may not have provided us everything we expect from our primary working location. For those lucky to have a dedicated (or semi-dedicated) space within our homes to work, we often lack access to resources readily available to us if we were in an office.
Here is my guide to amping up your home office for the New Year.
Check Your Connectivity
First, you need a reliable Internet connection that provides enough bandwidth for daily tasks. You need to connect to a VPN or Windows DirectAccess to gain access to resources behind your company's firewalls. Without the ability to "phone home," most of us cannot operate remotely.
For those that live beyond the digital divide, accessibility to bandwidth is limited, cumbersome to maintain, often underperforms against our expectations, and costs more than it should. Above all, quality Internet prevails as the dominate need for home office users. Without it our experience is dampened and our options for improving our experience are limited. Click To Tweet
After the need basic Internet connectivity has been satisfied, we can begin our work. What happens when the need to work with others arises? How can we collaborate with our colleagues, partners, clients, and suppliers as efficiently and effectively as we can in our corporate offices?
Embrace Virtual Collaboration
Enter video conferencing and collaboration solutions such as Zoom and Microsoft Teams, which provide 1-to-1 and group chat, video conferencing, collaborative whiteboards, and other tools which we can use to work virtually with colleagues and partners.  In traditional offices, conference rooms have been outfitted with conference phones or whole room audio systems, and TVs or projectors to allow for the sharing of visual content.
For most of us, however, our home offices are usually limited to a laptop and maybe an external monitor. How can we create a comparable experience in our home offices? For me, the answer came in the form of a 55" Smart TV that is mounted to a rolling TV cart.  Now, using native Windows tools, I can utilize my 55" TV as an additional monitor wirelessly, or I can plug an HDMI cable into my Surface dock and connect directly to the TV.
Having a TV in my office only provides partial feature parity with a fully integrated conference room experience. So, I took my setup a step further. On the top of my TV cart, there is a small shelf (I purchased a cart with this shelf for a reason!) where I have a WiFi network PTZ camera installed. Using Windows insider build features, I was able to add this network camera as a local resource to my Surface Book, and now, I can switch my broadcasted video feed from my laptop camera to an HD feed right off my home network.
Bring Enterprise Features to Your Home
I know that not everyone is as invested in creating a work-from-home experience that rivals what they have available to them in the office, but I am not everyone. In our home, we have SIP phones, audio and video equipment, and other components to help make the most out of our workdays.
For those committed to the work-from-home paradigm (and who realize they want more out of the home office), you can improve the experience incrementally. If you are a Microsoft Teams user, start incorporating Microsoft Teams-specific equipment, like a Microsoft Teams media phone or a Microsoft Teams display. Check out how we help set companies up with Microsoft Teams.
While some only need a computer, others cannot operate without a whiteboard. Some folks prefer physical telephones over PC headsets. Others can't work without a large touchscreen monitor on their desk. The key is to understand your own workflow, to understand what you need from your office, and to take steps to make your space meet your needs.
Don't Forget Non-Digital Work Tools
To do our jobs well, our home offices must be able to do more than facilitate virtual collaboration. Home offices must also help us work individually. Some of this can be achieved through technical means, while other, more foundational, needs must be addressed in other ways.
In a traditional office most of us have access to whiteboards. Recently, I have taken the "whiteboard leap" and ordered a large, rolling whiteboard to add to my home office. I have several ideas on how I am going to use it for my immediate needs, but I am confident that I will have opinions on how it can be better utilized after I spend some time with it.
Do you have Amazon Alexa? I have them set up in my home office as well as throughout my home. Earlier this year, I connected my Outlook calendar to my Alexa service which triggers Alexa to give me an audio reminder 15 minutes before the start of every appointment on my calendar (You select a single device in your home to speak these notifications). As someone who can easily get pulled away by a colleague or wrapped up in a phone call, this audio reminder has eliminated my stress about missing a meeting.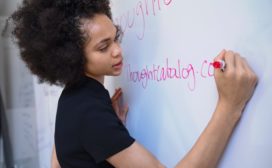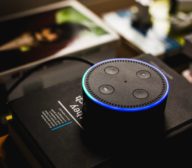 What Comes Next
Moving into the New Year, consider what else a home office needs. As a heavy Microsoft Teams user, I am interested in the new Microsoft Teams displays and phones coming to market early 2021. Collaboration is key in my work, whether I am collaborating with an internal team or with a client, so my ability to connect with others is essential to my job.
I am also considering upgrading my office to a Microsoft Teams Room (MTR), to create fully immersive meeting and collaboration experiences. At a minimum, this space would consist of a Microsoft Teams device, such as a meeting bar with a camera, in-room audio, and a display. MTRs can also have a secondary display, multiple cameras, a whiteboard with a content camera, among other features. Many of the components currently available are cost-prohibitive for home users, but there are some interesting devices that will hit the market in 2021 that may bring this reality a bit closer and cause me to take the plunge.
My Commitment to "Work from Home" Excellence
A large part of my value as a technologist can be summed up in tinkering. I build, try, test, rebuild, redeploy, and continually research new technologies – hardware and software – that help me to further my understanding of technology. I gain knowledge from my successes, but I also gain a lot of knowledge from my failures.
Have I spent too much time thinking about different things that can be done in the home office to provide a better experience for not only me, but for anyone? You bet. Am I going to spend even more time in the future doing more of the same? Without a doubt.
Why? Because I like it. Problem solving is my job and, this is a problem that not enough of us are talking about. The workplace paradigm has shifted, and for many of us, our "normal" workdays of the past are not what we are going to return to when our offices begin to operate in a post-pandemic state.  Most employers and employees see value in working from home, and I expect the practice to be significantly more widespread than it had been in our pre-pandemic states.
--------------
Do you have thoughts on how to improve your "Work from Home" space?  If so, I would love to hear them!  Shoot me an email at george.burns@spr.com and tell me how you have adapted your home office to function better for you.  Or tell me how your home office does not work for you and let's see if we can fix that!