Getting a Grip on Cloud Spend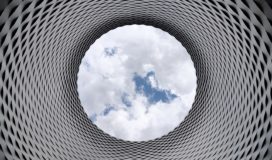 The cloud is a beautiful thing. It takes up little space, requires minimal initial investment, and offers unlimited expansion. But just because there aren't rooms filling up with servers, doesn't mean you don't need to keep your eye on the bottom line. Without proper controls, unregulated cloud spend can blow a budget right out of the water.
A leading global information and measurement company recognized that their development processes needed to be faster and more nimble, in order to create meaningful data and applications in a time-sensitive manner and maintain their leading-edge position in the marketplace. Going to the cloud was popular with developers all across the enterprise, resulting in cloud sprawl and resources being consumed at a rate no one expected. When their 45-day billing cycle came around and they got their first glimpse of costs, they discovered that much of their budget was already spent. That's when they came to SPR to get daily visibility into their cloud spend using FinOps.
FINOPS: CONTROLLING THE CLOUD BEFORE IT CONTROLS YOU
FinOps is the practice of optimizing the overall cost of resource consumption to ensure the maximum return on your cloud investment. Through FinOps, SPR helped their client identify, remediate, and govern their current cloud spend, and estimate new cloud projects on a stronger foundation. Simply put, FinOps gave their client a better way to deliver products on time in a budget-conscious fashion.
IDENTIFY CURRENT SPEND
SPR began by gaining a real-world understanding of the client's overall cloud usage. First they analyzed and remediated the "metatags" used to identify project codes, departments, billing cycles, etc. Until these tags were corrected using a consistent taxonomy, it was impossible to get a clear picture of cloud use. Once corrected, the numbers better reflected reality. Then SPR went through the client's billing API and calculated their daily spend, plotting it in resource usage charts.
Now the company could see the big picture of their actual resource usage. They discovered several key issues, such as the excessive creation of virtual machines, the improper use of IP addresses, and dormant resources, like load balancers and network segments, that were still using resources. Not having this data before also meant most project estimates did not account for real cloud use.
REMEDIATE KNOWN ISSUES
Next, SPR and their client addressed existing problems and developed processes to avoid problems in the future. This began by aggregating all the data discovered so far and reporting on it. Trends and issues became apparent. A monitoring and alerting solution was created to alert the resource user and the operations team about their spend. If resource use exceeded a set threshold, the system would shut down the non-production environment until the issue had been addressed. Virtual machines were also powered down during non-peak hours.
IMPLEMENT GOVERNANCE
Finally, SPR helped the client develop policies to control their cloud spend in the future. An internal FinOps leader was chosen, someone with a high-level view of IT spend and the authority to do something about it. Communication protocols for managing cloud resources were outlined and put in place. By pushing out a variety of training and best practice information, the client also began educating cloud consumers on these new protocols and spend parameters.
In the world of consumer research, the client's operations team members have demanding jobs and little time to police their efforts. Going to the cloud helped them work faster and smarter – at the same time, making it possible for users to spin up in Azure throughout the day, every day. Going through the FinOps process with SPR gave the research company the data and procedures to better control their cloud spend so they could continue to focus on providing valuable resources for their customers.