SPR Leads the Way on Microsoft's Office 365 Government Community Cloud (GCC High)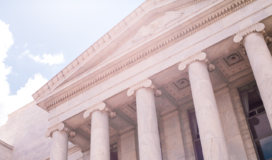 To work with the US Government documents and data, you need to know a lot about compliance. You might even build your own homegrown, US-based compliant platform for all your government-related jobs ­– an expensive proposition. But how much time can you really spend keeping your platform compliant with the ever-changing standards of the federal government?
Such was the case for a government contractor who finally decided that enough was enough – and when Microsoft announced its  Office 365 US Government Community Cloud (GCC High) platform, was one of the first in line to get on board. Office 365 GCC High environments deliver compliance with Department of Defense security requirements guidelines, Defense Federal Acquisition Regulations Supplement (DFARS), and International Traffic in Arms Regulations (ITAR).
As an early adopter, the government contractor requested SPR's expertise to port their highly confidential files over to Microsoft's new Office 365 GCC High tenant. Maintaining strict compliance while interacting with the platform and files was imperative, as was minimizing disruption to the work environment. To work on government contracts, there are security clearances to maintain, specific protocols to follow – and major fines for those who fail to do so. SPR's strong relationship with Microsoft and deep experience working with sensitive materials made them an ideal partner for the government contractor.
The client had on-premises systems used for storing sensitive data that were reaching End of Service Life and were costly to maintain. SPR's job was to:
Establish and configure the tenant according to Microsoft best practices
Incorporate existing business rules/regulations into the tenant configuration
Support and provide knowledge transfer to internal client resources
Migrate data from legacy, on-premises environment onto tenant
Continue to enhance functionality/features as released by Microsoft
Project by project, SPR helped their client move more than 4,000 accounts over to this bleeding-edge platform – so new, in fact, that Microsoft often consulted with SPR about the latest features of their platform.
By moving to a cloud-based solution for this data, and avoiding expensive data spills (moving data from a compliant container that meets government requirements to a non-compliant container), the client realized a real cost savings, not to mention world-class data security provided by Microsoft data centers. Office 365 GCC High tenants are similar to commercial tenants, but feature parity is not 100%: adding to the complexity of the endeavor, any code not written on US soil must be rewritten using strict US-based resources.
GCC High is new for everyone, but SPR has quickly mastered the intricacies of the environment working with Microsoft and other alliance partners (Sharegate, BitTitan) when needed, and continues to drive successful outcomes for the client.