3D Derby Day Embraces Hands-on Learning to Benefit LEARN Charter School Scholars!
There are many impressions from SPR's recent 3D Derby Day for LEARN Charter School's 4th and 5th grade Scholars that embody why we support challenged communities. The explosion of young arms raised high in response to Matt Mead, SPR CTO, asking one of many probing questions related to the principles of 3D printing. The anticipation on the faces of the kids crowded shoulder to shoulder around the 16′ Pinewood Derby track as their 3D crafted, superhero racers screamed out of the starting gate and down the steep slope of the track. The process and skill of Ms. Yi, Literacy Instructor, as she held the kids' attention and commanded their responses through a series of clear, rote directives to assure discipline and order throughout the morning. But the most indelible images are of the broad smiles as the Scholars – LEARN Charter's reference for its students – immersed themselves in the joy of hands-on learning around tech.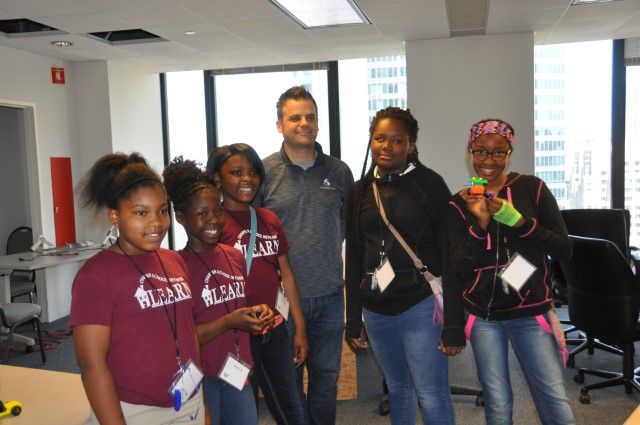 Earlier this year I was introduced to Melanie Adcock, founder of Tech Month Chicago, a first-year initiative to encourage broad participation in and knowledge share of the evolving civic tech movement. Melanie is a whirlwind of activity, and Tech Month has quickly caught on. Colleagues and industry associates whom I'd asked weren't aware of Tech Month. I expect that many of them will be by the end of June. As of last week Melanie had 80 events on the calendar – with a queue of others in review – for the debut season! Categories vary from tech demonstrations and expert panels to events for kids. All have a tech-centric flavor and the collective tapestry is meant to pull in a broad, diverse and representative audience from throughout Chicago and to make tech more accessible and relatable.
Planning the inaugural LEARN Charter/SPR 3D Derby Day!
With a CTO who's passionate about technology and fully committed to supporting kids' growth and education, my biggest responsibility for our 3D Derby Day was making sure the 4th and 5th graders from LEARN Charter's west side campus arrived on-time last week. Matt would have been everyone's favorite physics or biology teacher. He would have engaged his students in such fun activities that they couldn't help but learn! From the first conversation related to Tech Month, Matt was committed to driving a fun, immersive and educational experience for the kids.
Melanie had been looking for a company to host Mr. Phillips and his students and provide a genuine experience in the tech industry. Before I even shared that with Matt he was sharing his vision for a Pinewood-Derby like event with 3D-fabricated cars that teams of kids could assemble and optimize for racing down a track…a track that he would build at home in his garage! "I want other companies to take the approach that SPR is taking to civic engagement because there are many schools like LEARN Charter that need their kids to experience this" noted Melanie.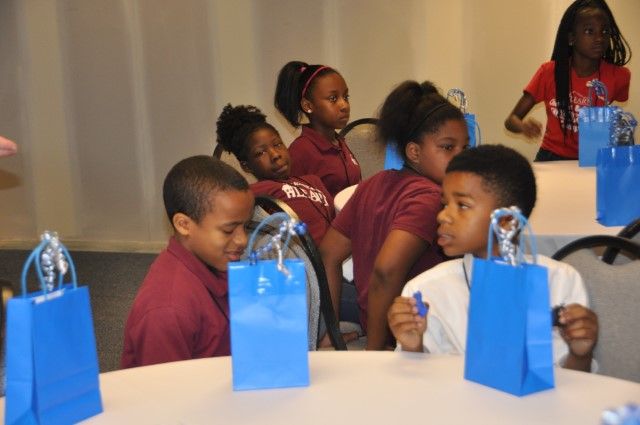 His energy and commitment to the kids was all-in. But that's Matt. All-in. The first time I met him we chatted about rock climbing, canoeing and kayaking – all topics in which he was well-versed. I learned that he was fabricating a traditional wooden canoe in his garage. It seems that Matt's garage serves every purpose other than a handy place to park cars. He has taken on a project to build a cross-country ski/sled for me which I had envisioned for years, built a Segway vehicle, and introduced his own kids to the joy of learning by doing, whether for fun or their school projects. There seem to be few topics that don't interest Matt.
We had several challenges in planning our Derby Day for the kids. The event had to be conducted during the school-day – which meant the workday for SPR. We had to have space to accommodate a big group, so we decided to host them in an expansion space that SPR is building out. We were under a tight timeframe. We were planning an experience for the kids which would require a lot of thought and 3D fabrication of parts…a lot of parts. And our key player was a very busy executive at a growing tech company. What could go wrong? Fortunately Matt and all of our colleagues at SPR embrace Civic Engagement and were fully committed to ensuring that our young guests from LEARN Charter had a great experience that they would remember and, hopefully, use as a stepping stone in their ongoing education.
Derby Day Arrives!
When Mr. Phillips emailed me that the group had arrived and were in the Wacker Drive Lobby of the Willis Tower, Rebecca Butman, SPR's Director of Marketing, and I headed down to meet them. One of the Tower's security staff was leading them through an electronic security gate one by one. They were an impressive group, decked out in their maroon-colored LEARN Charter sport and t-shirts, plaid skirts and bow-ties, khakis and smart shoes. Rebecca and I couldn't contain our smiles as these great, wide-eyed kids – many sporting equally fashionable eyeglasses – passed through the gates of the Willis Tower to a world that was new to most of them.
We introduced ourselves to their teachers, making certain not to distract them from their young charges. I had been trading emails with Mr. Phillips for the past ten days, addressing housekeeping and logistical points and keeping him and Melanie in the loop on the developing agenda for the morning. In the SPR offices a team of colleagues was stringing lanyards with the scholars nametags and small versions of 3D racecars, placing an SPR Swag bag at each scholar's seat, setting a table with healthy snacks and drinks, readying a monitor with Matt's presentation on 3D printing – while Matt stabilized the track and plugged in the glue gun that would come in handy for securing any loose parts on the kids' racers.  It takes a village to put on an impressive 3D Derby Day!
Once the scholars got settled the morning officially kicked off. Matt introduced SPR CEO Rob Figliulo who thanked the scholars and their teachers for joining us and provided them with a general sense of our business and the value SPR provides to our clients, noting the four factors of any engagement – time, budget, quality and risk. This is what a CEO does! A few minutes later he asked the kids whether they remembered the four, and as a preview of a scene that would be repeated over and over through the morning, hands and arms shot to the sky. Rob quickly got the answers he needed for the first three factors and then there was a brief pause and no arms were extended. But just as quickly a hand shot up, Rob called on a young lady with a confident smile on her face, and she triumphantly stated in a clear, crisp voice…risk! He smiled back as he congratulated her and all of the kids for their attention to detail and their obvious enthusiasm.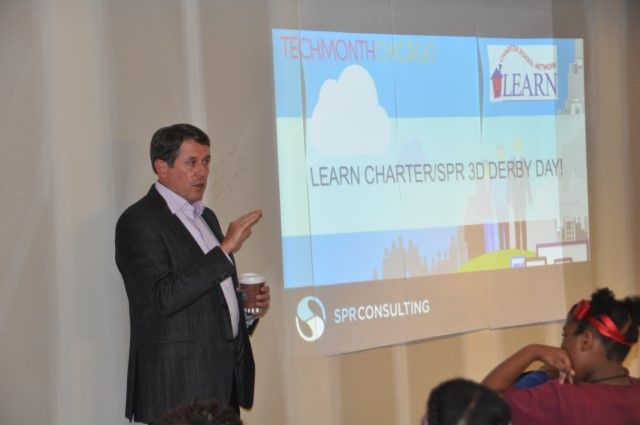 Matt took the reins again and provided a few ground rules on teamwork and how the morning was going to unfold, culminating in the 3D Derby. However, as the morning progressed with Matt introducing terms such as filament, the repeatable build patterns of a 3D printer and related concepts, the scholars had so many questions – and answers begging yet more questions – that some of us were concerned we'd never get to the races! I thought all kids wanted to get to the fun stuff as quickly as possible, but these LEARN scholars couldn't quit asking and answering questions!
LEARN Scholars to the starting line!
The teams worked on a mock 3D build using Legos to fill in the shape of a letter such as an upper case "I" or "E" to mimic the layering that occurs during an actual build or make. Then it was time for the teams to build their 3D racers. Matt and colleague Murphy O'Rourke had given the group some insights on basic engineering, balance, and simple aerodynamics to consider when building their cars. Each team had a large zip-lock bag with everything needed to build and accessorize a Pinewood-Derby like 3D racer – complete with 3D fabricated superhero heads of Spiderman, Hulk and a pantheon of others to be mounted as the drivers, giving each team its unique personality.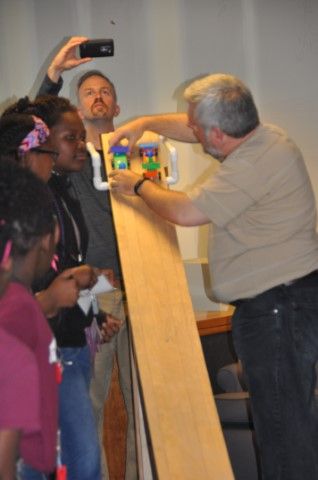 Rebecca served as track announcer, enthusiastically noting each team's name as they squared off in heats with the winner moving on to face the next intrepid challenger. Teams crowded on either side of the steep track to cheer their racer on as Paul Herzog of SPR managed the starting gate from the top of the track. The energy was infectious as the teams ribbed one another good-naturedly, posed for photos with their car, and cheered loudly as the cars dropped down the slope towards the finish line where a catcher was waiting to scoop them up. After about 20 minutes of down to the wire heats, Team Titans beat Team Batmo by a half-car to take home the LEARN Charter/SPR 3D Derby Trophy…3D printed of course!
I want these students to see new technology that is available and emerging so they can help change the world. Kids are amazing because they have not been told that there are things they cannot do. So they do not see limits, but rather they only see possibilities. This unhindered way of thinking will allow this next generation to make enormous advancements in science, technology and engineering. At our 3D Derby Day, we saw the amazing minds of students at work while building and optimizing their 3D printed derby cars. Everyone involved from SPR was touched by the curiosity, amazing manners and unending enthusiasm from the students. We are already looking forward to doing it again next year! – Matt Mead, SPR CTO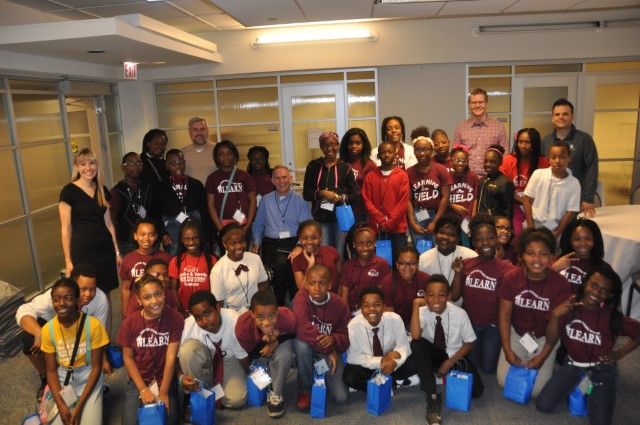 Ms. Yi, Mr. Phillips and their colleagues settled their scholars down with a series of verbal cues and precise, rhythmic hand claps as they had several times during the morning to manage order, gain their attention, or move a process forward. With the teams settled back into their seats, Matt thanked them for participating in the derby. The kids gave Matt and all of us a round of applause and we gave them and their instructors the same. We took a group photo and said our goodbyes as the kids filed out in a single, orderly line…just as they had filed in.