CEO Perspective: SPR Philanthropy is Not Just Business – it's Personal
Often when individuals or businesses see a problem in society, they want to help by donating money, time, even talent. Then there are those who desire to go a step beyond charity. They look to address the root cause of a problem – with no focus on material gain for themselves.
This is called philanthropy. Merriam-Webster defines philanthropy as "goodwill to fellow members of the human race." Many businesses participate in philanthropic activities as a company-wide initiative, as does SPR.
But for SPR's CEO Rob Figliulo, it is not just business – it's personal.
THIS IS WHY IT MATTERS
Rob remembers a particular story. The San Miguel School of Chicago is a Catholic school that serves economically disadvantaged and academically at-risk students in Chicago's Back of the Yards Community. SPR donates annually, which the school applies toward a student scholarship. Rob is on the school's Board and San Miguel asks members like  Rob to meet with the scholarship student for an hour every quarter.

Rob obliged, not knowing what he'd have to talk about with a 6th grader. "We had nothing in common," Rob remembers. "She was new to the school, two years behind in math, three years behind in reading. She was shy."

So, Rob talked about what he knows and loves – his kids. Rob shared family photos with the student, and when she saw Rob's oldest daughter Katie, who is profoundly disabled from cerebral palsy and uses a wheelchair, she was curious. "Let me tell you why Katie's different," said Rob, "and why she's the same." From then on, the conversation flowed.

Every quarter, Rob and the student would meet, and every time he noticed improvement. By 8th grade, the student not only caught up, she was ahead in math and reading. Their friendship grew, and when the student moved on to high school, she gave Rob a gift, a rosary to give to his daughter Katie.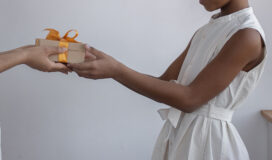 This student's act of kindness to my daughter is a beautiful demonstration about how not just a monetary donation, but giving an hour every quarter, is enough to build a relationship, and to potentially influence someone's life.~ Rob Figliulo
COMMITTED TO FINANCIAL GIVING
For SPR, philanthropy isn't about keeping up with a fad or the latest trend in business. Since its first days as a company in 1973, SPR has budgeted for donations to various organizations and inner-city schools.

"The leadership at SPR is blessed to be where we are, and we attribute that to educations we were fortunate to have," says Rob. "We want to share with others who have the potential but maybe never had the right opportunity."

In addition to San Miguel School, SPR donates to the Chicago-based Misericordia, a care facility that provides for persons with mild to profound development disabilities. This organization has a mission of providing a quality of life for residents and their diverse needs, a mission that Rob believes in and supports.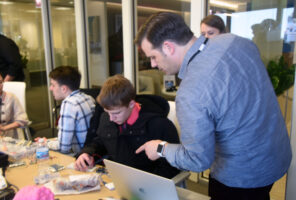 Committed to Skill Development
SPR's philanthropic efforts are aimed at more than just financial giving. What started during SPR's fledgling days has grown to a complete program committed to philanthropic and civic engagement efforts, with a full-time employee, Pat Maher, overseeing these initiatives as Director of Civic Engagement. And SPR remains focused on going beyond and getting to the root of it – developing skills in those who may not otherwise have the opportunity. The goal is to help the community as a whole to thrive.

Persons with Disabilities: In the early 2000s, SPR created a training program to help employees with disabilities who may not have previously been considered for IT jobs. The training covered multiple skills in team building, judgement, listening – skills that have nothing to do with a person's demographic background or physical mobility challenges.

Young Professionals: SPR has partnered with Year Up, a Chicago internship program that helps young adults with the first steps in their career – no matter their background, income, or zip code. Pat remembers what an impact the Year Up interns have had on him personally.

"While each of the interns faces challenges from very different backgrounds, they are all so talented," Pat says, explaining how he would help guide with their overall professional mindset. He remembers structuring a formal report with one intern to meet weekly, helping shape him as a young professional. "So much so, that I asked him to serve in the mentor role for the next young intern."

Charter Schools: Students visit SPR for tech days and events like 3D-printed derby races. Pat Maher and SPR's CTO Matt Mead also stopped by a school to present a gift of a 3D printer, and ended up spending much of the day with the students.

"Matt was enthralled by teaching these kids how to run the printer," Pat says. "This is genuine SPR. No corporate suits. No window dressing. We do it – and we feel good about working for a company that supports philanthropic efforts."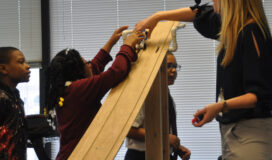 This is genuine SPR. No corporate suits. No window dressing. We do it – and we feel good about working for a company that supports philanthropic efforts.~ Pat Maher
COMMITTED TO THE COMMUNITY
The key to having an impact on communities is for numerous organizations to consistently drive efforts over time. "You can't just write a check," says Pat. "These communities need to see professional, supportive faces in their neighborhood – companies and entities supporting historically deprived communities and creating an umbrella of support." This is something that SPR has demonstrated since the beginning and continues over the years with multi-generational leaders and employees.

"This is a vibrant community, and we want to see that continue," says Rob. "We're very dedicated to the area, it's people, it's future architects and builders. Who knows which kid might come through our office on a school trip and then later remember us when looking for a job? It does happen."
WHAT GOES AROUND...
Not long ago, Rob crossed paths with the father of the San Miguel student, who told Rob that the student is now attending Lewis University. "If San Miguel wasn't there, she most likely would not have had this opportunity," Rob says, expressing that "what goes around, comes around," in the best sense of the phrase.

How so?

The San Miguel student went into physical therapy to help people with disabilities – moved by the stories in 6th grade about Rob's daughter Katie in a wheelchair.

"We treasure whenever we can unlock a door that opens up an opportunity that otherwise wouldn't be there," says Rob.