Exploring Blockchain Application in the Building Technology Industry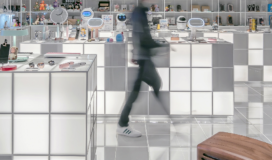 As expected, the future of the building technology industry is ever-evolving thanks to a world of change—from climate and demographic changes to urbanization and digital transformation. What's resulted is a growing importance for energy efficiency and sustainability, an increased need for security, a much higher innovation speed, and more competition in the "smart" building space than ever before. To those last points, staying relevant requires our partner to not only keep up with the innovation happening today, but also know how to get ahead of what could happen tomorrow. Read: blockchain?
The question is intentional. Will blockchain be the future of the building technology industry? Perhaps yes. Perhaps no. Being armed and ready for "yes" is what's important—and exactly why our partner engaged us.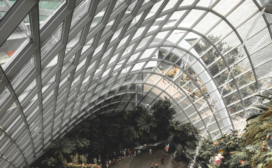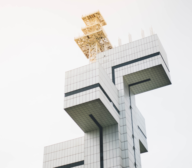 The Background
Our partner's intention was to explore how blockchain technology could be utilized to create efficiencies across their buildings' ecosystems. The exploration was strictly preliminary—a defense tactic. They feared that if they did not explore how to successfully apply blockchain to their business, a competitor or new opponent might, and the results would be disadvantageous.
We collaborated with our partner to better understand a building's ecosystem, including its participating stakeholders, standard operating procedures, and commonly made transactions. It's important to note that the buildings in question were atypical; they housed medical or pharmaceutical operations and therefore had high regulations imposed upon them and any participants, namely, the building owner, tradespersons, and regulatory agencies.
The traditional way of operations lent itself to numerous inefficiencies and redundancies. Remediating an issue and assessing compliance meant multiple parties checking in on one another, usually multiple times over. A blockchain opportunity looked especially promising because it would create a streamlined way of conducting transactions and offer shared visibility across the entire ecosystem. Moreover, by gaining a lens on all transactions, our partner could potentially reduce costs, paperwork, and stress for each participant.
The Solution
We identified the main pain point as being the disconnected network where participants with very different objectives communicated through a variety of different channels.
Then, we began to strategize around how a blockchain would remedy it.
As a result, we proposed a new way for participants to communicate via a blockchain network, accessible via an app tailored to each participant type. To better help our partner understand the applications, we demonstrated each app's user interface and experience, as well as the technology required behind the scenes—the enterprise data infrastructure necessary for creating and upholding the network.
We also presented multiple scenarios that demonstrated how our partner could engage in the network by providing blockchain-related products and services to each participant market; the objective of each scenario varied, from growing new participants (tradespersons) to nurturing current ones (building owners) or even engaging directly as an IoT solution.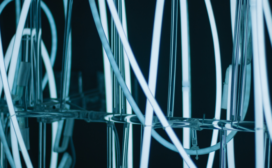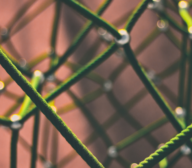 The Outcome
Our partner was able to better understand blockchain technology, and specifically how it would apply to their industry. We discussed potential next steps, including what value pursuing a proof of concept would provide, and whether it was necessary at the time.
We recommended our partner continue to pursue blockchain technology readiness by engaging with their stakeholders across the transactional network. A co-investment in new products like those demonstrated in this explorational use case would prepare them to offer better ways of working, all while blockchain continues to mature for industrial use.
Explorations such as the one explained above are designed to help businesses prepare for the future. Emerging technologies, like blockchain, are continuously evolving (and not leaving us anytime soon); while an immediate next step may not result, knowing exactly what that next step is will separate the leaders from the laggards.