Taking the Cloud Underground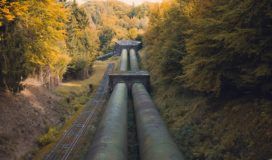 iPEK needed a way to manage all the data for municipalities — and get paid for doing it. They turned to SPR to help get the job done.
About
iPEK is an IDEX company, based in Sulzburg, Germany, that is a leader in the field of sophisticated, high-quality systems with industrial applications in pipeline inspection. In the past, when a municipal water sewer became clogged, the inspection process was tedious and resulted in sluggish repairs.
For example, an emergency crew would be sent to the nearest manhole to put a camera down the pipe with a video rover, examine the condition of the pipe, clarify if it required cleaning or repair, and measure exactly where the blockage was located. Then the video would be copied to an SD card and shared offline between the municipality and the contractor hired to clean and maintain the pipeline. The complex, time-consuming process meant it could require days for the clog to be removed.
XPECTION Technology
iPEK's innovative new XPECTION system is a pipeline camera that also cleans. Through video transmitted wirelessly in HD quality, the camera enables live observation and video documentation of the sewer maintenance and/or cleaning process. Moreover, data collected during the process can be utilized to build a virtual map of a sewer network.Through a series of sharable videos, network managers are now empowered to monitor sewer networks and take steps to enable predictive maintenance.
THE CHALLENGE
As a result of the XPECTION technology, iPEK had the opportunity to change how municipalities schedule and manage sewer maintenance and repairs. But to achieve the goal, iPEK needed a way to manage all the data for municipalities — and get paid for doing it. The company looked to SPR for the solution.