Empowering Employees with Business Intelligence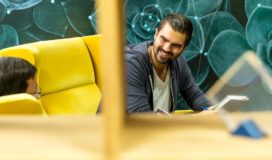 If you need to pump water, regulate pressure, move wastewater, or find environmentally friendly equipment for a service station, Franklin Electric can get the job done. Founded in 1944, Franklin has grown from a niche motor business into a global enterprise.
Franklin aims to be the most sought-after place to work in its industry, so the company prioritizes having the best products, superior marketing programs, and advanced business intelligence (BI) capabilities—everything to help its technically adept salespeople succeed. Not long ago, however, Franklin could not claim BI capabilities among its advantages, and the company's sales force struggled in their absence.
Ineffective Toolbox
Rewind to April 2009. That's when Kevin Snyder joined Franklin as the company's Chief Information Officer (CIO). His charter? Give the company's hundreds of salespeople the ability to check their current status in relation to sales forecasts and to see up-to-date customer information, budget data, and other key measures so that they and their managers have an accurate understanding of what's going on at a given moment.
It wasn't that Franklin lacked BI software. In fact, the company had spent U.S.$3.5 million on an IBM Cognos system—one that few people were able to use. "The company really had nothing to show for its huge investment," recalls Snyder. "Before I started the job, I explained to executive management that the company's IT landscape had to change, which included throwing IBM Cognos out."
That recommendation wasn't popular, but Snyder saw that the difficult-to-use system wasn't meeting the company's needs and knew that pouring more money into it just didn't make sense. "In addition to the $3.5 million that the company had already spent, it cost $150,000 a year for IBM Cognos support—for limited seats," says Snyder.
Big Effort, Little Payoff
The existing business intelligence system presented numerous challenges, including its lack of user-friendliness. Learning to use it required a multiday IBM Cognos training course that cost several hundred dollars per user. Even after training, however, the company's salespeople still had to rely on IT personnel to compile reports for them because of the complexity of the system. Says DeLancey W. Davis, Franklin Electric Corporate Vice President and President of the U.S./Canada Commercial Business Unit, "Our salespeople were frustrated that they couldn't easily obtain BI themselves and that they received 30-day-old information at best."
IT staff members did their best, but it was an enormous job to gather all the data and compile it into the dozens of reports that they disseminated through e-mail each month. "IT staff tried to keep up with constant requests for different information in the reports," says Snyder. "But just changing the heading for one column could take six months because of the backlog of requests."
Finding the Right Mix
With support from Davis, Snyder weighed his options and immediately thought of Microsoft. "From a usability standpoint, the Microsoft Business Intelligence software is the natural platform for the company," says Snyder. "Why provide our employees with data in a different format when they would just move it into a Microsoft Office Excel spreadsheet?"
But Snyder evaluated more than just usability. As CIO, he needed to determine the financial ramifications of his decision. "Cost per computer is essential," states Snyder. "I could get a Microsoft Business Intelligence software solution—plus the latest operating systems, desktop productivity suite, unified communications platform, and so on—for what amounts to around $500 per user. The IBM Cognos system alone cost up to $1,000 per seat depending on the type of user."
To do his due diligence, though, Snyder approached both IBM and Microsoft, asking for help in proving the value of a BI solution based on their respective technologies. "IBM offered to send its consultants who, at more than $200 per hour, could tell me what we'd done wrong," says Snyder. "IBM wasn't interested in helping us, just in billing us."
In contrast, Microsoft invited Franklin to an Architecture Design Session at a Microsoft Technology Center (MTC) in June 2009. At the MTC, Microsoft introduced Franklin to SPR, a Microsoft Gold Certified Partner with expertise in developing BI solutions using Microsoft Office SharePoint Server 2007, Microsoft Office Professional 2007, and other technologies. "Microsoft puts its money where its mouth is, entering into a partnership rather than just wanting to sell software and services," notes Snyder.
The Proving Ground
Franklin left the Microsoft Technology Center satisfied that Microsoft technologies could do the job. The company then embarked on a proof-of-concept (POC) project in partnership with SPR to take what it had learned at the MTC and apply it within its own environment. "We really relied on SPR for its depth of knowledge and experience, helping us strategically address our BI needs," says Snyder .
SPR developed a business intelligence solution built on Microsoft SQL Server 2008 Enterprise and Office SharePoint Server 2007. The solution includes a comprehensive sales cube built on Microsoft SQL Server 2008 Analysis Services plus reports created by using Excel Services in Microsoft Office SharePoint Server 2007. The sales cube connects with Microsoft Office PerformancePoint Server 2007, which develops scorecards based on multiple sales measurements.
As part of the POC, Franklin and SPR designed a series of BI dashboards and scorecards that refresh their information every hour, drawing real-time data directly from the company's enterprise resource planning system. "Our model gives salespeople just-in-time answers to questions as they arise," says Snyder. "Now they can better prepare for customer engagements, provide a higher level of service, and make more informed decisions."
Information at Their Fingertips
In October 2009, Franklin launched the business intelligence solution in one of its sales divisions and plans to expand access to the solution companywide in 2010. "Finally, we can make our salespeople feel valued and appreciated by giving them easy, self-service tools that help them do what they've been hired to do," says Davis. "After just one hour of training, they were comfortable with the dashboards and scorecards."
Today, Franklin salespeople have detailed analytics that let them know where they stand with regard to product sales, customers, forecasts, budgets, and so on. And the company's managers have a single view into who's performing well, which products aren't selling as expected, and where greater investments need to be made.
"With that kind of trustworthy account information available at their fingertips throughout each month—not just at the month's end—sales teams are empowered to take action before an issue arises or an opportunity is lost, rather than being forced to remain in reactive mode," says Snyder. "With BI tools from Microsoft, our sales-people can enhance service to our customers and increase sales for the company."