Xoobies: Unique, Customized Travel Experiences Right from Your Phone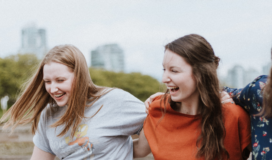 When you visit a new city, you want to see it from an insider's perspective. Maybe you just have a free afternoon. Wouldn't it be great to hang out with someone who can show you the town as only a local can?
That's the idea behind a cool new service called Xoobies. And a cool new service for people on the go needs a great mobile app, so Xoobies turned to SPR.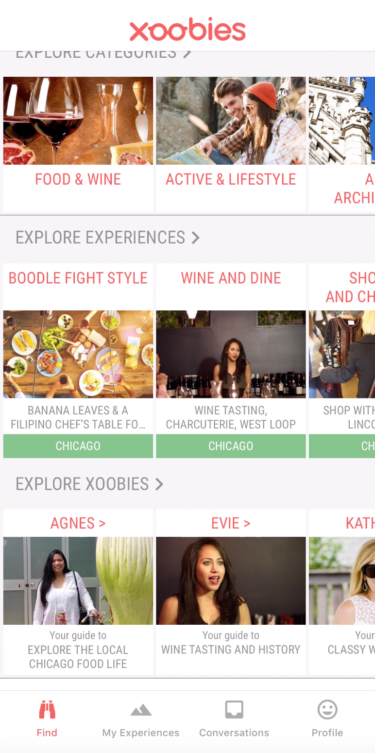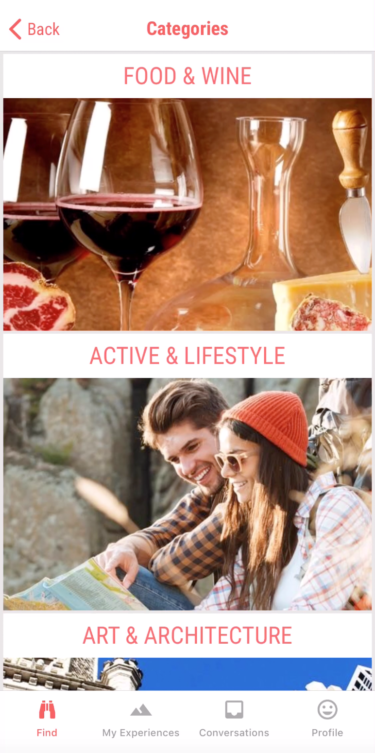 ONE-OF-A-KIND ADVENTURES WITH LOCAL GUIDES
Catering to the popular appetite for unique experiences (YOLO, FOMO!), Xoobies brings users together with locals who can provide one-of-a-kind regional experiences — from the best in neighborhood dining, to jam sessions with local artists, to a good old-fashioned pub crawl. The Xoobies app makes it easy to browse, find, register, and pay for one-of-a-kind personal tours in the city of your choice.
A FEATURE-RICH APP FILLED WITH MEMORABLE EXPERIENCES
ENJOY INTUITIVE UX: As a consumer app, Xoobies had to be intuitive, enabling a busy tourist or businessperson to tap through and evaluate tour options in minutes.
EXPLORE YOUR WAY: Users can browse tours by category (Food & Wine, Art & Architecture, Active & Lifestyle) by tour guide, or by availability ("what's going on tonight?"). When the user knows what she is looking for, she can search across all guides and tours.
MAKE RESERVATIONS: Xoobies offers a full-featured reservation system, including availability selection and credit card payment processing.
CONDUCT CONVERSATIONS: Users can chat with their tour guides before and after the event — great for discussing tour customizations or user limitations, finalizing meeting places, and coordinating any last-minute changes.
SHARE YOUR MEMORIES: Xoobies' tour guides take pictures during the tour and share their photos through the app. Users receive the photos after the tour and can post on Facebook, Instagram, and other social media services.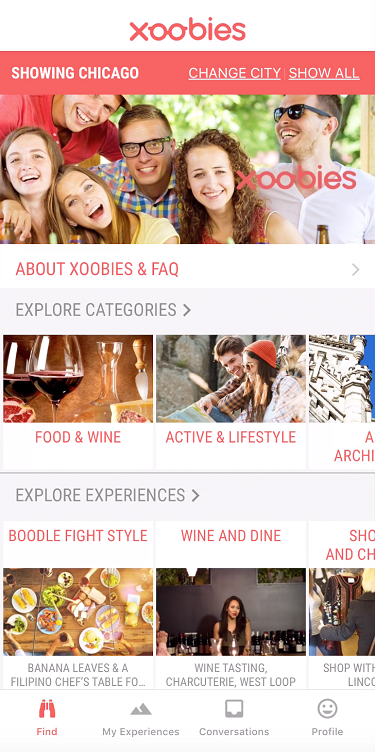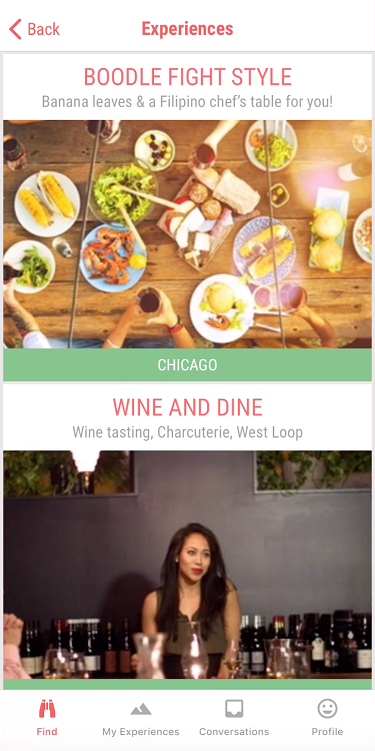 THE CHALLENGE OF BUILDING TO PLAN, NOT DATA
Based upon the strength of the Xoobies idea, SPR signed on early to work with the new start-up. SPR closely collaborated with the company, refining their feature set to meet their timeline and budget constraints. Plus, we kept their business goal top of mind: to enter the market with a full-featured premier mobile app.
There was one hitch, and it was a big one. There was no actual data to work with yet.
For Xoobies to be successful, their offerings needed to be as safe as they were exciting. That meant recruiting hundreds of potential experience providers (Xoobies) and putting each of them through a rigorous 4-step vetting process. As a result, the Xoobies developers could not build the web services that mobile apps need to run, meaning the app couldn't retrieve real information about tours, guides, and tour availability, or process payments. The building of the app had to begin while Xoobies was still collecting the data to populate it.
Building to plan without real data is like building an engine with no gas to run it. But that was exactly what had to be done. SPR leveraged an app architecture that decoupled the UI from the web services and focused on UI development with placeholder data until the services became available. When the web services were delivered, SPR implemented the non-UI components to connect with live Xoobies data with minimal changes to the work already delivered.
SUCCESSFUL APP OFFERS NEW KIND OF FUN IN CHICAGO
Despite the challenges, SPR speedily delivered an app with an impressive list of features, while staying focused on Xoobies' larger project plan and delivery prioritization. Currently live in the market of Chicago, Xoobies is designed to expand easily to other locations.
"Working with SPR was great," says Xoobies Co-Founder Dennis Robinson. "It was a pleasure to work with such a hard-working and positive team. They've got the skills you need to take an idea from the back of a napkin all the way to market. Their agile methodology made it a collaborative effort throughout and enabled us to have fruitful conversations that lead to the product we have today."